Are you leveraging the best video marketing tools out there?
If your answer is no, it's time to buck up.
Video marketing is one of the best ways to promote your brand online. It is an effective way to engage your website visitors as well as drive traffic to your site. People spend approximately 5.5 hours every day watching videos online.
Also, social media makes a huge impact on our lives with around 4 billion people watching videos on Facebook and YouTube daily. This illustrates the popularity of video marketing.
Studies have found that by 2019, video traffic will comprise 80% of all internet traffic with 1.9 billion viewers worldwide (excluding mobile users).
It's clear that video content is king.
Which Are the Best Video Marketing Tools Available?
If you too are looking to promote your brand through video marketing, check out these essential video marketing tools that can help you.
Disclosure: This content has a few affiliate links, which means if you click on them, I will get a commission (without any extra cost to you).
Image via VidIQ
This video marketing tool is an asset for those who want to make the most out of YouTube marketing. Using this tool, marketers can boost their organic reach, keep track of real-time stats, identify the most popular keywords, and do a lot more.
Key Features
Quick overview of key YouTube metrics
Keyword research
Competitor research and analysis
Email alerts for trending topics
Compare stats with competitors
YouTube channel audit
Thumbnail generation
Cost
Basic Plan: Free
Pro Plan: $7.50/month
Boost Plan: $39/month
Boost+ Plan: $415/month
Pros
Easy-to-use
Access to real-time data
Available as a Firefox extension
Provides detailed insights
Great customer support
Cons
Only one user can access the tool
Tool Level
Beginner to Expert-level
Usability
Video marketing, YouTube marketing
Pro Tip: Check out vidIQ Academy to learn how to grow your YouTube channel.
Image via TubeBuddy
This free video marketing tool is available as a mobile app as well as a browser extension. Once you set it up, it directly gets integrated into your YouTube channel.
It can help you with video SEO and running contests for promotion. From research and publishing to optimization and marketing, it has features for everything.
Key Features
Thumbnail generation
Post scheduling
Social media monitoring across Reddit, Pinterest, and Twitter
Keyword research
Competitor analysis
Video A/B testing
Comment filters
Schedule posts
Bulk copy cards
Cost
Pro Plan: $9/month
Star Plan: $19/month
Legend Plan: $49/month
TubeBuddy Enterprise: Contact their sales team for details
No contracts
Coupons and discounts available on their website
Pros
Supports Google Chrome, Safari, Firefox, Opera, and Microsoft Edge
Available on Android and iOS
Skill for Amazon Alexa available
Good customer support
Detailed reports
Rich functionality
Value for money
Cons
For multiple channels, you need multiple TubeBuddy accounts
Tool Level
Beginner to Advanced-level Users
Usability
Video marketing and video SEO
Pro Tip: Not sure what to make videos on? Use TubeBuddy's Video Topic Planner to come up with great ideas.
Image via Agorapulse
This video marketing tool primarily is a social media management tool, you can leverage its features to amplify your video content as well.
It can help you reach out to your target audience, engage with your followers, and schedule posts. This tool has features for marketing on Instagram, YouTube, LinkedIn, Twitter, and Facebook.
Key Features
Hashtag discovery
Content scheduling and queuing options
Comments management
Topic recommendations
Track follower interactions
Saved searches
Pros
Easy-to-use
Available as a Chrome extension
Available as an app for iOS and Android
Great customer support
Detailed reports that are exportable via PPT and CSV
Cons
May face loading issues in the mobile app sometimes
Pricing
Medium Plan: $99 per month
Large Plan: $199 per month
X-Large Plan: $299 per month
Enterprise Plan: $499 per month
Free demo available
Free trial available
Pro Tip: Leverage their Inbox Assistant to finish repetitive tasks like deletion, labeling, and others.
Image via Vidyard
Vidyard is a video marketing tool specially designed for businesses to grab the attention of their audiences. Companies like Lenovo and Citibank use Vidyard to attract their customers.
Key Features
Vidyard can help you with lead generation, employee training, and corporate communications.
It has a built-in analytics tool that helps you to measure the performance of your video marketing.
Vidyard also provides video hosting capabilities and the videos you create can easily be shared on social networking sites.
It also integrates with tools such as HubSpot or Salesforce to keep track of your leads.
Image via Animoto
This video marketing tool is an online editor that can be used by marketers, vloggers, or photographers who want to make videos. Animoto can help you create professional-quality videos and assist you in achieving your goals for better business growth.
Key Features
Animoto can help you create slideshow videos to showcase your work or portfolio.
They provide dozens of built-in storyboard templates you can use to create your marketing videos.
They offer countless options for text fonts, colors, stock photos, and music that you can add to your videos.
You can even add your logo as a watermark on the video for greater brand recognition.
Image via Common Craft
Common Craft is a video marketing tool which is suitable for creating videos and animations from photos and videos. You get to evaluate your videos for free before you purchase anything.
Key Features
Common Craft has impressive features that simplify the uploading and allows recording of direct videos for editing.
You can use them to create explainer videos creatively which have an emotional effect on your audience.
It is easy to edit your videos – add animations and audio in a short span of time.
Image via Filmora
Filmora is one of the best video editing tools as it gives users the freedom that most tools don't. This video marketing tool allows users to adjust color effects, brightness, speed, rotation, and lots of other video enhancement features.
Key Features
It comes with a powerful video editing interface that helps users create interactive videos.
You can use this tool to create highly engaging videos that will help you build your brand.
This tool can work on Windows and Mac and is available on Android and iOS with the name "FilmoraGo."
Image via Vyond
Vyond (formerly GoAnimate) is one of the essential video marketing tools that enables you to create high-quality animated videos. In addition, you can add dialogues to your characters using the lip-sync feature.
Key Features
It allows you to create video content using their library of sounds, props, and templates.
It is suitable for all web browsers.
GoAnimate is one of the fastest editing tools as compared to others.
Image via Magisto
Magisto is a video marketing tool which can help your business grow by creating attractive marketing videos for your audience.
Key Features
You can create videos to boost your brand awareness or promotional videos to help you generate more leads.
You can create videos in different styles and with various captions along with music.
Image via Picovico
Picovico helps you transform your pictures into videos using text and music. This video marketing tool is also known as a birthday video maker.
Key Features
This tool can help you create videos instantly.
It works effortlessly in a simple and seamless way.
It can help to create beautiful videos out of pictures you've captured.
Image via Powtoon
Powtoon is another video marketing tool that can help you create authentic presentations and videos. You can create a professional video in less than 20 minutes. This tool is used by top companies like Starbucks.
Key Features
Powtoon can help you create personal, educational, and commercial videos.
It includes good-looking templates that can help you make videos and presentations quickly.
You can use Powtoon as an editor to produce videos in different formats.
Image via Renderforest
This is yet another video marketing tool that enables you to create animated, promotional videos in the cloud. It is a simple platform that you don't need any technical expertise to work with.
Key Features
You can make professional-quality videos for free.
They also offer a number of built-in templates so you can create promotional videos or introductions using them.
Image via Sellamations
Sellamations is a video marketing tool which you can use if you want to promote your brand using doodles.
Simply put, doodles are hand-drawn images. With the help of this tool, viewers can get to see fascinating hand-drawn images while watching videos.
Key Features
Sellamiations video marketing tool provides an endearing way to attract your customers to your brand by creating doodle videos.
It also provides the services of professional voiceover artists to help you create awesome content.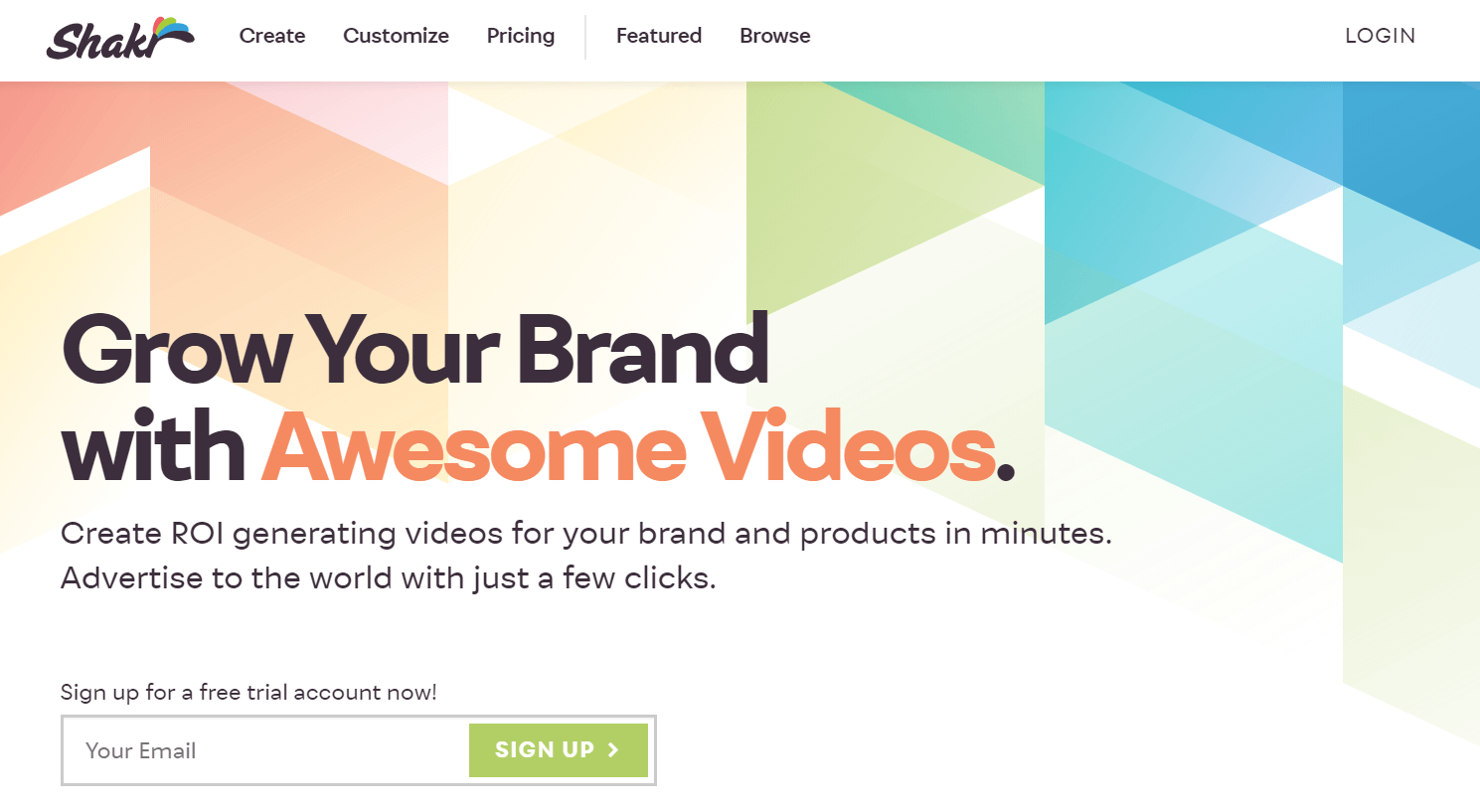 Image via Shakr
Shakr can help you create videos for your brand promotions. This video marketing tool offers around 1000 video designs to choose for your brand.
Key Features
This tool has numerous designs in a variety of categories including Facebook videos, book promos, and business videos.
You can drag and drop your video clips and images, add any text, and create your videos.
Image via Slidely
Slidely is an editing tool which lets you create, discover, and share your photos, video clips, or music. This is really a user-friendly video marketing tool that almost anyone can use.
Key Features
Promo offers access to over 12.5 million premium video clips and images, pre-edited licensed music, and a user-friendly editor.
Promo offers thousands of ready-made templates, by award-winning designers including copy and matching music.
The videos you make are yours to post online anywhere, anytime, forever.
You can create your videos in all relevant formats and sizes to fit various social media channels
Image via Videolean
Videolean is another cloud-based video creation service. This video marketing tool enables you to create professional videos very easily. Over 240,000 people are using this service.
Key Features
Videolean has various built-in templates which you can use to create presentations, videos, or stories to promote your business.
It is an effective and affordable tool for startups, ecommerce stores, and marketing agencies.
Image via VideoScribe
This video marketing tool is a virtual whiteboard on which you can create hand-drawn or animated explainer videos easily.
Key Features
It is an inexpensive tool that gives you thousands of built-in images and music to choose from.
It has impressive features that you can use for business, education, and social engagement.
Image via Videoshop
Videoshop is another amazing video editing app currently available on Android, iOS, and Windows devices. Using this video marketing tool you can integrate attractive features with your videos.
Key Features
You can add your favorite song to your video.
With Videoshop, you can also create videos in slow motion.
You can also apply filters to enhance the quality of your videos.
It allows you to remove unwanted video clips and add sounds like applause, animal voices etc.
You can add titles and subtitles to your videos.
And you can also use a combiner tool to merge multiple clips into a single one.
Image via Viewbix
This video marketing tool uses SaaS-based builder with the help of which you can create interactive video ads.
Key Features
You can create videos with an integrated call-to-action to boost your traffic, conversions, and clicks.
This professional tool gives you the advantage of cross-platform distribution so that your video looks great on desktop, laptop, and on other devices.
You can see how and when people engage with your videos through actionable analytics.
Image via Vimeo
This video marketing tool is one of the best high-quality video hosting sites for video marketing.
Key Features
With their Premium plan, you can host and manage all your videos in one place with 7 TB of storage and no weekly limits.
You can add team members to your account so you can collaborate to review and make notes on your videos.
You can embed your videos anywhere and add clickable calls-to-action that will help you drive more engagement.
Once you've started your video marketing campaign, you can track the performance and can see what captivates viewers the most.
Image via WeVideo
WeVideo is an online video marketing tool that can be used to create, capture, view, and share your videos anywhere.
Key Features
You can create high-quality videos (up to 4K resolution), which can definitely grab the attention of your clients.
This tool can help you edit your videos anywhere and on any device.
The tool also offers built-in images, graphics, audio, and video; and also provides a green screen feature.
Its user-friendly interface provides advanced editing features to help you create videos easily.
Cincopa is a digital asset management platform that offers unique video marketing tools and hosting solutions. Companies and individual users turn to Cincopa to tap into the true business potential of their videos.
Key Features
A variety of cool, dynamic templates to suit your business needs.
Hosting videos using Cincopa ensures that your website visitors remain on your website, and aren't redirected to YouTube to watch embedded videos.
Cincopa's robust analytics will introduce you to every video viewer. You can get insights about who they are, where in the world they watched the video from, on which device, and, most importantly, for how much time they watched the video.
A variety of integrations such as with HubSpot, Zoom, and Slack.
Pricing
Startup plan: $9/month (includes 5 videos, 50 audio files, and 500 images)
Plus plan: $25/month (includes 40 videos, 200 audio files, and 1500 images)
Corporate plan: $99/month (includes unlimited storage, best suited for SMEs)
Agency plan: $350/month (includes unlimited storage, best suited for larger enterprises)
Pros
Offers a free trial
Very intuitive interface
Provides image and audio hosting, along with video hosting
Easy to customize
Extensive analytics
Cons
The image upload limit should be higher with lower budget plans.
Sometimes, it's difficult to find the image you want from the uploaded images. Maybe, they can have more gallery layouts.
Tool Level
Cincopa's intuitive user interface makes it an ideal choice for beginners. However, seasoned web developers routinely turn to it as it offers an endless variety of embedding options.
Case Study
Quarantined junior players of the Scottish Ice Hockey Association remain connected during COVID-19 via Cincopa-delivered webinars.
FAQs
Q1. What is video marketing?
A. In video marketing, marketers use video content to promote their brands, services or products, or reach their target audience. They use it to boost sales, encourage website traffic, drive email sign-ups, boost customer service, and improve social engagement.
Q2. What tools are used to make a marketing video?
A. The following tools can help you make marketing videos:
TubeBuddy
Animoto
Vidyard
Wondershare Filmora
Vyond
Smart Video Maker by Magisto
Picovico
Q3. How do you make high-quality videos?
A. Use these tips to make high-quality videos:
Prioritize lighting.
Avoid distracting or messy backgrounds.
Use video creating and editing software.
Keep editing simple. Take care of simple edits like noise-canceling, adjusting lighting, removing awkward silences, including transitions, and adding background music.
Ensure your video is crisp and clear.
Avoid shaky footage. Use a tripod or record with your camera on a steady surface.
Practice camera presence before recording.
Smile, enunciate correctly, be calm, and if you feel jittery, have something to keep your hands busy.
Q4. What is the best paid YouTube video marketing tool?
A. Top YouTube video marketing tools include:
vidIQ
Agorapulse
Vyond
tubics
Q5. How important is video in marketing?
A. Video in marketing can help you:
Boost sales and conversions.
Deliver great ROI.
Foster trust.
Boost your rankings.
Appeal to mobile users.
Explain your products or services in an easy-to-understand format.
Capture audience attention.
Q6. Can we convert low-quality video to high-quality?
A. Yes, you can.
And even though you should try to capture quality video on-site, you can leverage video editing tools to improve the quality.
Tools like Adobe Premiere Pro CC, Corel VideoStudio Pro, and others can help you make video corrections, add filters, include transitions, and so much more.
Q7. Is VidIQ free to use?
A. Yes.
Besides their paid plans, users can also access their free plan with limited features.
Q8. What are the best video marketing tools?
A. Some top video marketing tools include:
Vyond
Smart Video Maker by Magisto
Animoto
Vidyard
Picovico
TubeBuddy
Wondershare Filmora
Q9. Why are videos better than text?
A. The following are reasons you should use more video than text:
They can elicit emotions that drive your audience to engage more with your content.
They make it easy to interpret long-form content and package it in an easy-to-consume format.
They grab audience attention and improve brand recall.
They can help you drive organic traffic and increase conversions if embedded on landing pages.
They can help you effectively communicate how you solve customer pain points.
They encompass all other content types like audio, text, music, links, etc., making them entertaining and the right format to hold audiences' attention.
Q10.  What are the types of video marketing?
A. These are the major types of video marketing:
Tutorials, DIY videos, and demos
Explainer videos
Branded videos
Demos and showcases
Stories on Facebook, Instagram, and Google
Trailers and teasers for new products or events
Testimonials and reviews
Question and answer videos
Live streams
Case studies
How-to-videos
Webinars
Documentaries
Podcast videos
Virtual and Augmented Reality
Behind the scenes