What is Shopify dropshipping?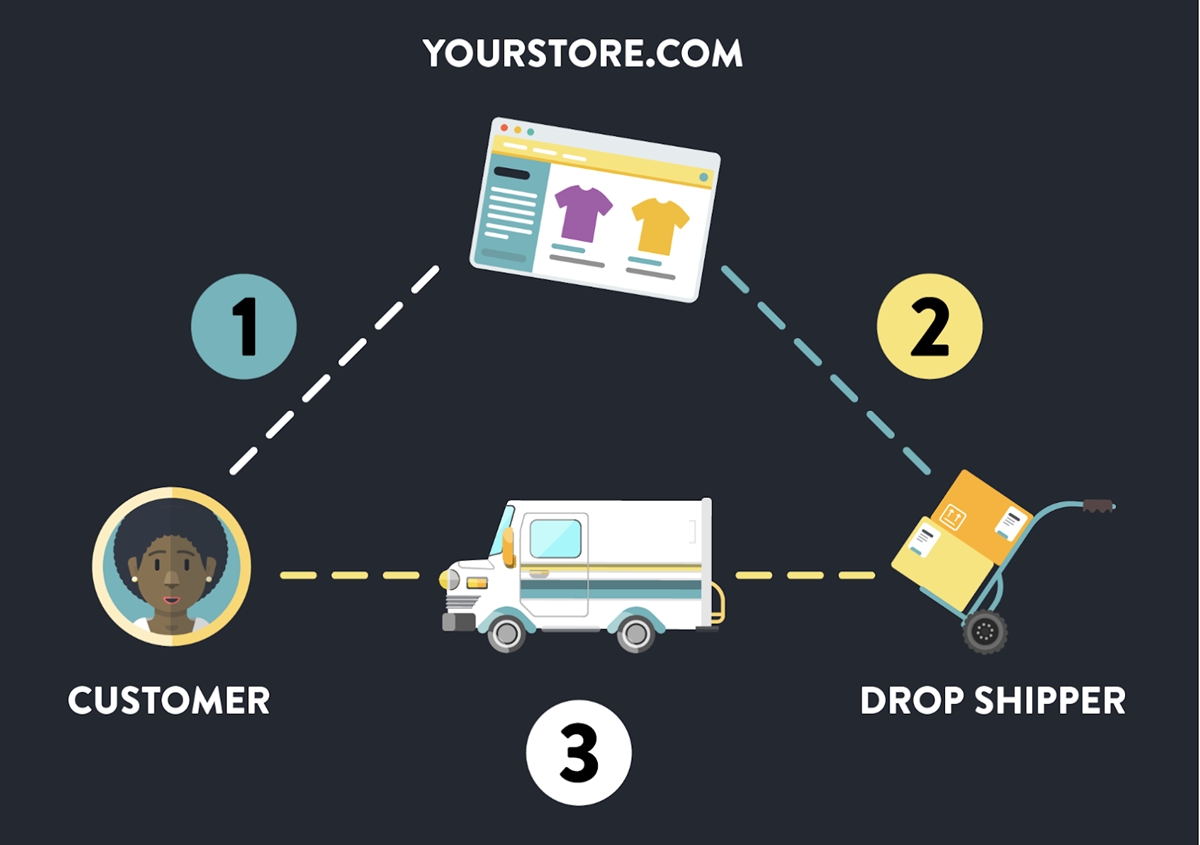 Gone are the days when starting a business means making your own product from scratch, investing tons of upfront capital, and handling everything from delivering to packaging and customer support. The Internet has created a new business model that allows people with little initial investment to join entrepreneurship. That business model is dropshipping.
Dropshipping enables merchants to sell products without having to keep inventory and deliver orders to their customers. In the dropshipping business model, merchants partner with dropship suppliers who own inventory (manufacturers or wholesalers) and sell their products on behalf of them. These dropship suppliers will handle the order fulfillment and delivery when they receive orders from the merchants.
The entire process of dropshipping products generally contains these three steps:
The customer places an order on the merchant's eCommerce store.
The order and buyer's information will be automatically forwarded to the dropship supplier.
The dropship supplier fulfills and delivers the order directly to the customer under the merchant's name.
Recommended:How Does Dropshipping Work On Shopify?
The best Shopify apps for dropshipping:
1. Spocket: Dropshipping suppliers for best US/EU products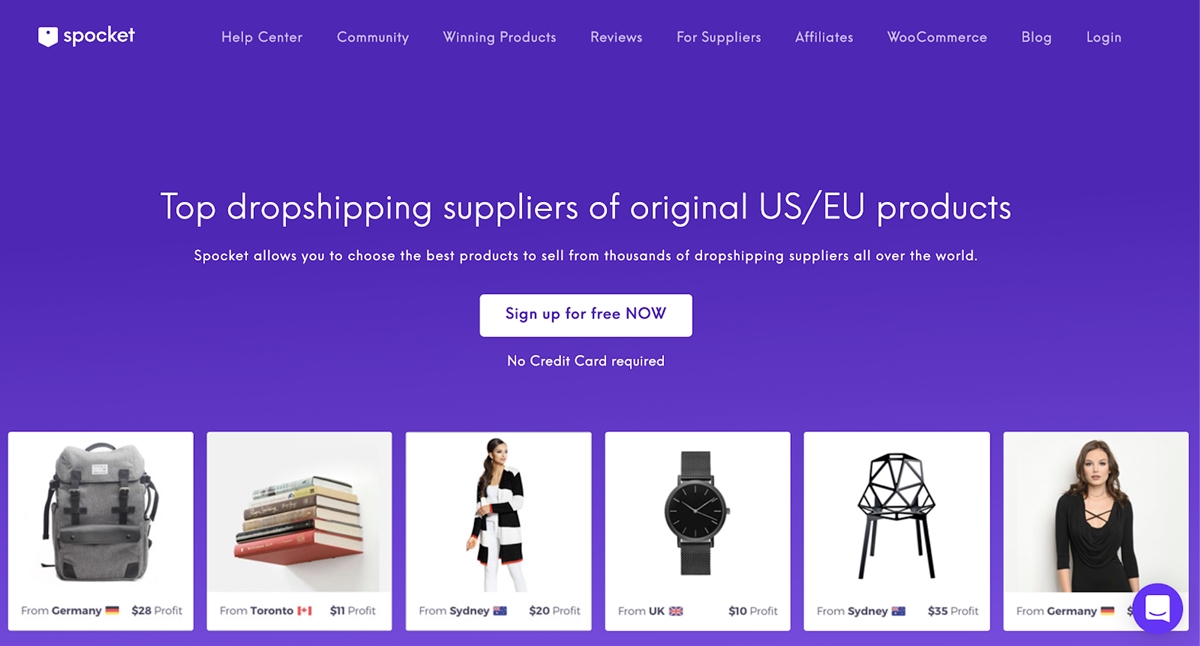 Spocket can help you build up an inventory of high-quality products for your eCommerce store by connecting you with dropship suppliers based in the US and EU. It's one of the best Shopify Dropshipping Apps on the market, and it's very user-friendly; simply install the Spocket app on your Shopify store. It will help you look for suppliers in their catalog of products, pick the products that you want to sell, and import them to your store.
Although dropshipping as a business model has many benefits, it does have some drawbacks when it comes to brand-ability, profit margin potential, return/refund policies, and shipping guidelines.
Spocket has recognized this, and it has made a large effort to eliminate these drawbacks from their dropshipping marketplace. By creating the common policies and guidelines for both merchants and suppliers to follow, Spocket has made the disadvantages mentioned above a thing of the past. Thanks to Spocket's efforts, dropshipping has become a seamless and profitable experience for their suppliers, their merchants, and, most importantly, for the end consumers.
Further Reading: Spocket Review – EU & US Dropshipping Suppliers
Spocket's advantages:
A huge range of offerings
High-quality products
Importing products to Shopify easily
Short shipping times (2-5 business days)
Great customer service
Updated with new suppliers frequently
Spocket's disadvantages:
Spocket's suppliers are based in the US & EU only, so pricing for products may be higher than other dropshipping products sourced from other locations around the world.
Pricing:
Spocket offers three pricing plans:
Basic Plan: Free
Unlimited orders
Selling up to 25 products
Real-time inventory updates
Currency exchange
Shipping tracking number
Global pricing
Email support only
Standard plan: $39.90/month (7-day free trial)
Everything from the Basic plan
Premium products
Selling up to 250 products
Branded invoicing
Email and chat support
Professional Plan: $99.90/month (7-day free trial)
Everything from the Standard Plan
Unlimited Products
2. Printful: Print, Dropship and Fulfill T-Shirts on Demand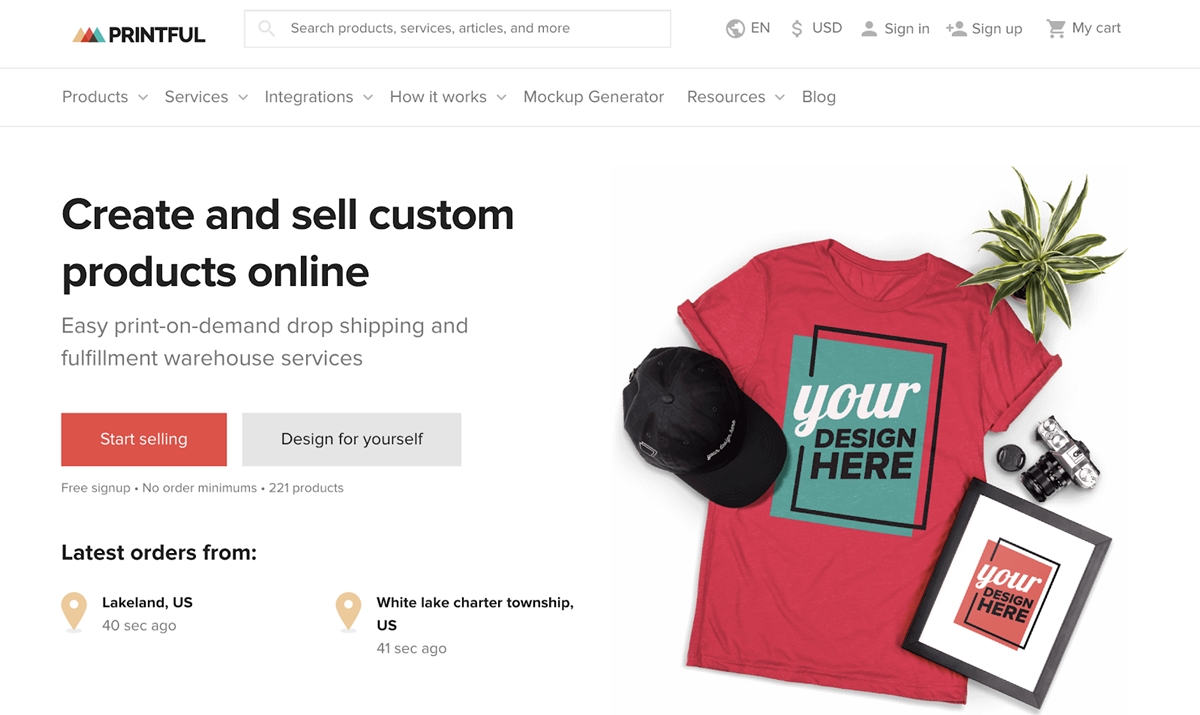 Printful is a dropshipping app for apparel, accessories and homeware goods. Among their product offerings are T-shirts, pillows, hats, tote bags, phone cases, and many more. How Printful works are that they provide the products, print on the products, fulfill orders, and deliver them to your customers. The only thing you need to do is bring them your orders, and they will handle the rest for you. To get a full understanding of how Printful's process works, you can have a look at their Print Order Lifecycle.
With Printful, you don't have to create your own products because they will handle that for you. They also provide you with all of the tools and resources that you need to help you connect their dropshipping process with your eCommerce store easily. This will, in turn, bring your customers a seamless shopping experience. Also, you can use Printful to dropship regardless of what eCommerce platform that you want to sell on.
Printful's advantages:
Printful has a wide range of products for you to select from. You can check out their product offerings here.
Printful will handle all the printing, fulfilling and delivering for you.
Printful integrates directly to your eCommerce store, so your orders will be sent to them automatically. You can manage your customers' orders on your dashboard.
Printful provides tracking details for every order.
Printful provides you with a mockup generator that will show you exactly what your designs will look like on their products.
Printful provides branding services that allow you to dropship under your own brand.
Printful's disadvantages:
Their product offerings are specialized for the apparel, accessories and homeware goods segments only.
Their branding customization does have limits (you can't use your own boxes, poly-mailers, or anything beyond the customization options that they provide).
Some products, such as the framed posters or canvases, are not shipped to every country.
Pricing:
It's free to use the Printful app, and you can import as many products to your store as you want. The number of orders you can get per month is also unlimited. There is no monthly membership or any other type of cost; you only pay when your customers make an order.
3. Oberlo – Dropshipping App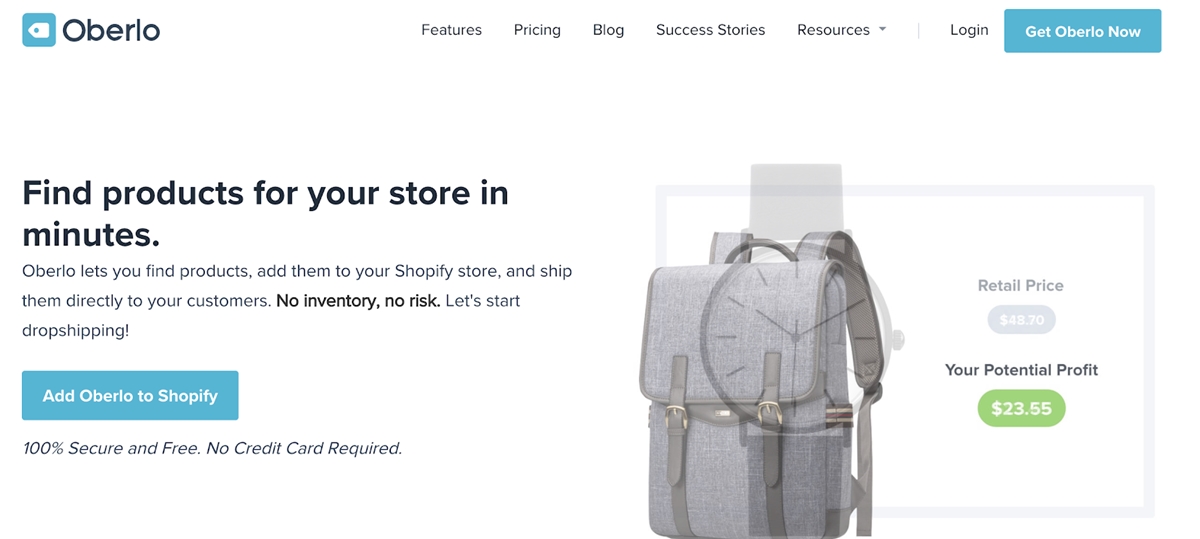 Oberlo is a dropshipping app owned by Shopify, and it is specifically and exclusively built for the platform. It enables dropship merchants on Aliexpress to import products from the Aliexpress website to their Shopify store seamlessly. With Oberlo, you will have access to a huge collection of products, ranging from electronics, apparel to toys and clothing, at lots of different price points. Oberlo is optimized so well that the entire process of choosing, selling and delivering products is completely automated and requires very little work from your part.
Oberlo's advantages:
The app has a well-designed user interface and is very intuitive to use.
You can import products from Aliexpress to your store with just a few clicks.
If you want to dropship Aliexpress products on Shopify, Oberlo is made for you.
You can customize product details including product photos, descriptions, prices and variants very easily.
There are many suppliers on AliExpress for any given product, and you can switch between them easily with Oberlo.
You can learn a great deal from Oberlo's resources such as the Oberlo Blog and Oberlo Success Stories.
If you don't want to build a store from scratch, you have the option to purchase an Oberlo store from the Shopify Exchange Marketplace.
Oberlo's disadvantages:
Oberlo is only available for Shopify, and it can be used to dropship from Aliexpress only.
Pricing:
You can check Oberlo's pricing plans in this site. It has three plans to offer:
The Starter plan is free, and you can sell up to 500 products on your store, and get 50 orders/month.
The Starter plan is $29.90/month, and you can sell up to 10,000 products on your store, and get 500 orders/month.
The Pro plan is $79.90/month, and you can sell up to 30,000 products on your store, and get unlimited orders/month.
4. Dropified: Automate your dropshipping business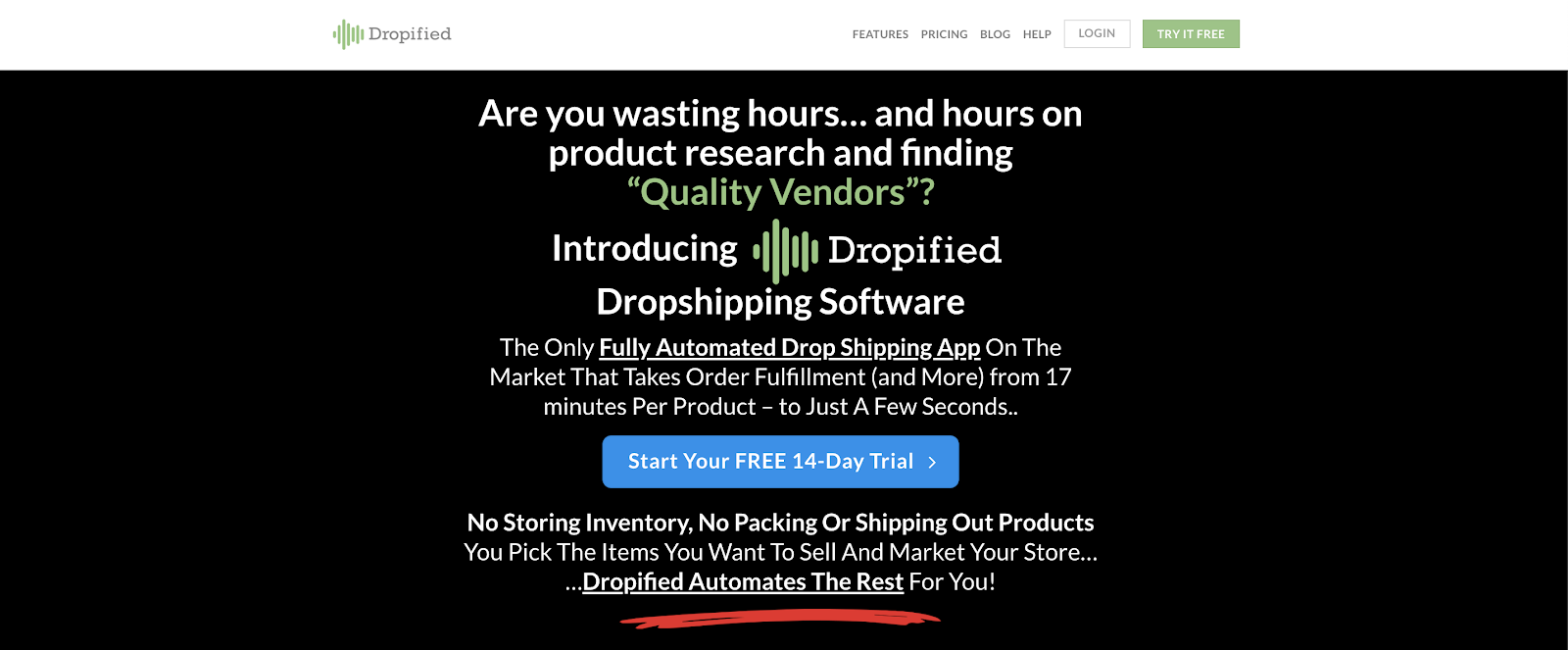 Aliexpress is one of the most popular platforms that dropship merchants source products from, but it can get frustrating to import and update products from Aliexpress into your store. This is where Dropified steps in.
What Dropified does is automating the whole process of dropshiping for you with its many features such as one-click order and one-click import. With Dropified, managing the backend of your dropship business becomes a piece of cake, and you have more time to spend on selling.
It's worth noting that Dropified is a web-based application, so there's no app for downloading on your phone. Instead, you need to download the Dropified extension on your Chrome browser, and then you can use it to import products into your store very easily. Dropified is compatible with many eCommerce platforms such as Shopify and Woocommerce.
Dropified's advantages:
Free 14 Day Trial: you can sign you and try Dropified for 14 days for free. You can stop using at any time during the trial with no fee charged. Billing will start at the end of your trial period.
30-Day Money-Back Guarantee: After your free trial, Dropified then provides you with a 30-day money-back guarantee, so you have plenty of time to try out Dropified without having to commit your money.
Packed with Powerful Features: Dropified's tools automate most aspects of your eCommerce store – from the supply to the sales operations. You can automate product imports, order fulfillment, shipment tracking, and many more.
Multi-platform Compatibility: Dropified integrates with many online marketplaces for finding and sourcing products. For storefronts, Dropified is compatible with Shopify, WooCommerce, and CommerceHQ.
Responsive Live Chat: Their customer support reps are easy to contact. They are also very responsive and well-equipped to answer your questions.
Dropified's disadvantages:
Lack of FAQ: It's kinda odd and inconvenient for a service to not have a FAQ section. Although training videos are available, they are not as convenient to find answers for urgent questions.
Limited Automation: Most Dropified automated tools only work with AliExpress. Manual processing is required for other marketplaces.
5. SMAR7 Express: Import and Fulfillment Automation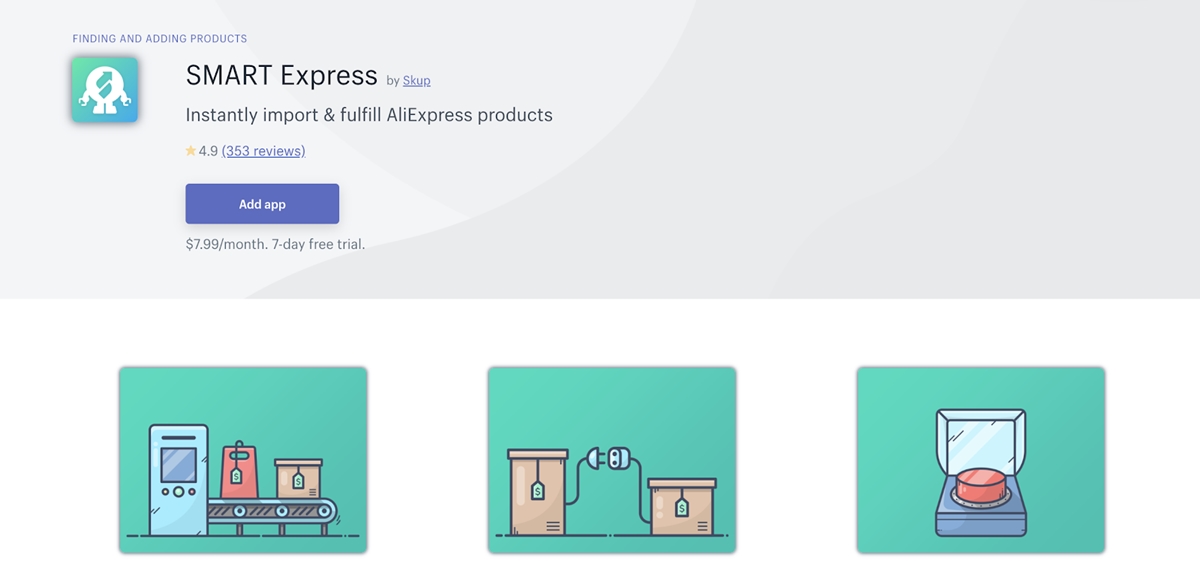 SMAR7 Express is closely similar to Spocket and Oberlo, but it has a few unique advantages. This app is a comprehensive dropshipping solution that has a large collection of products to offer you. Compared to Oberlo, SMAR7 Express has better integration with Aliexpress, and it allows you to import products with just one click as Ober does. Fulfilling orders also takes just one click.
SMAR7 Express's Advantages:
SMAR7 Express has a seamless integration process with Shopify. With SMAR7 Express, items are imported instantly into your store.
You can choose your favorite supplier among different suppliers to fulfill an order. This function is completely unique to SMAR7 Express.
Even though most of the AliExpress suppliers are in Southeast Asia, SMAR7 Express improves their shipping times by using the ePacket delivery option.
SMAR7's customer support is unparalleled. They are online 24/7, so if you reach out to them at 1:00 AM, know that they will be there.
You will get responses within minutes, and their replies are often thorough with more than enough information.
This app makes managing sales become as easy as a click. It's also extremely user-friendly.
SMAR7 Expess's Disadvantages:
This app automatically imports all of the information from Aliexpress, which can become a kind of annoying sometimes.
Pricing:
$7.99/month with a 7-day trial.
6. Inventory Source: Wholesale Dropship Suppliers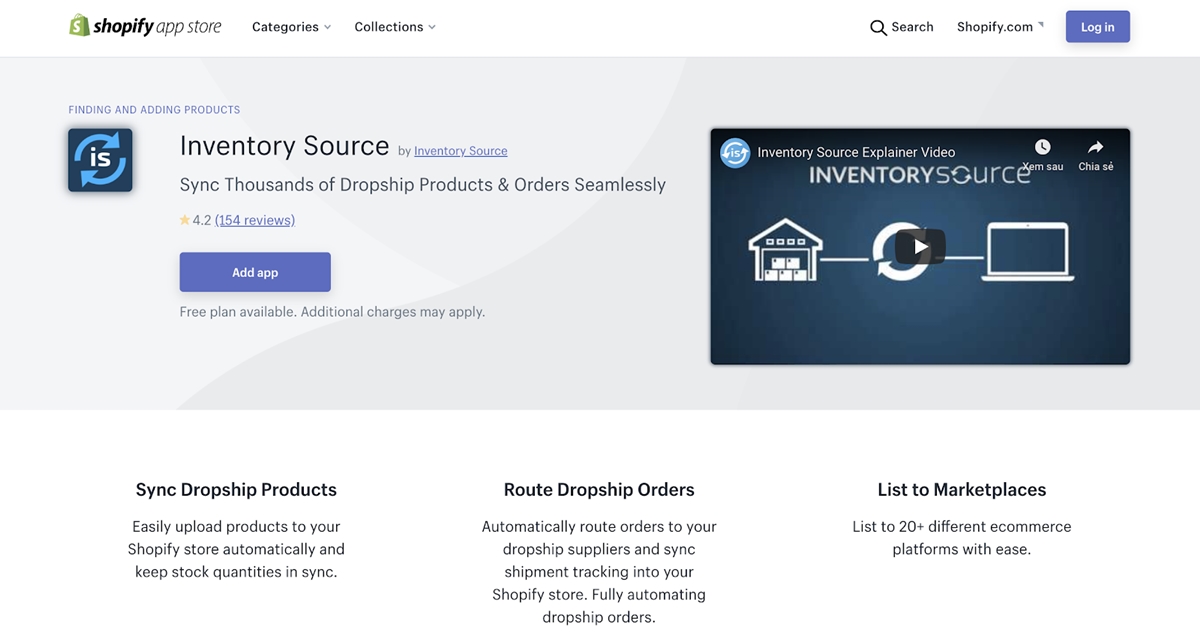 Inventory Source is a dropshipping supplier, and they provide their own inventory management app that connects you to their 180+ dropship supplier network. This app makes sourcing dropship products and managing stock a super simple process. It even goes the extra mile and automates several parts of a business's operation process such as product uploads, routing orders, inventory syncing and many more.
Inventory Source makes money not by marking up the cost of each product, but by charging you a flat-rate incurring monthly fee. That means you only pay the prices that your suppliers offer you for any product you add to your store.
Inventory Source's advantages:
The platform has 180+ dropship suppliers
Product data is automatically uploaded
Inventory is synced in real-time
You will be provided with real-time shipment tracking
You can sell on your online store, or any marketplace.
There's no extra markup on products
You can communicate directly with your suppliers via the app
Inventory Source's disadvantages:
This app and the entire platform are not really easy to use, so it will take a bit of a learning curve.
Pricing:
Inventory Source has three different pricing plans to offer you:
Free Account: Free
Access to their directory of 180+ dropship suppliers
View their supplier's products and policies
Filter suppliers through specific niches
No options for selling.
Inventory Sync: $50/month
180+ pre-integrated suppliers
Auto-upload product data
Add custom/private integrations
Bulk feed management tools
Optimized inventory sync
Full Sync: $150/month
Includes Inventory Sync +
Multi-supplier split order routing
Auto order routing
Order management interface
Auto-sync shipping tracking
7. Teelaunch: Print on Demand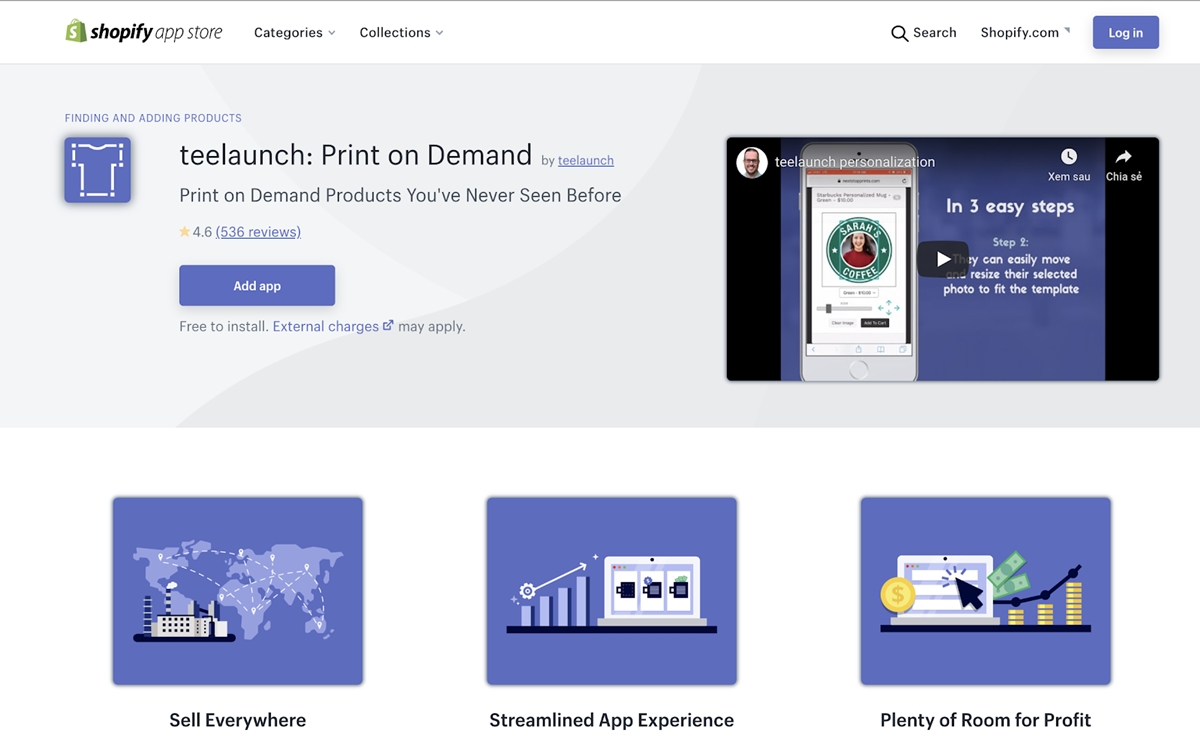 Teelaunch is a print-on-demand service that prints your custom designs on their products. Their process is simple; when a customer places an order on your website, they print the product, package it and deliver directly to your customer. You can start using Teelaunch with no monthly or annual fees; you only have to pay for a product when your customer places an order with you. Teelaunch's offerings include apparel for men and women, tapestries, tote bags, shower curtains, phone cases, jewelry, pet products, kitchen products and many more.
Teelaunch's advantages:
The app is free to use. There are no membership fees required.
There are no minimum orders. You can buy just one unit.
Teelaunch has a huge collection of products to off you. You can check out their offerings here.
You don't have to be involved in any part of the product-making to fulfillment and delivery process as Teelaunch handles everything.
There's no limit to the number of products you can sell.
You can choose your markups.
Teelaunch ships worldwide.
Teelaunch's disadvantages:
Their service is quite decent, so there are no disadvantages.
Pricing:
It's free to use the app, and you pay when your customer places an order.
8. Importify: Easy Dropshipping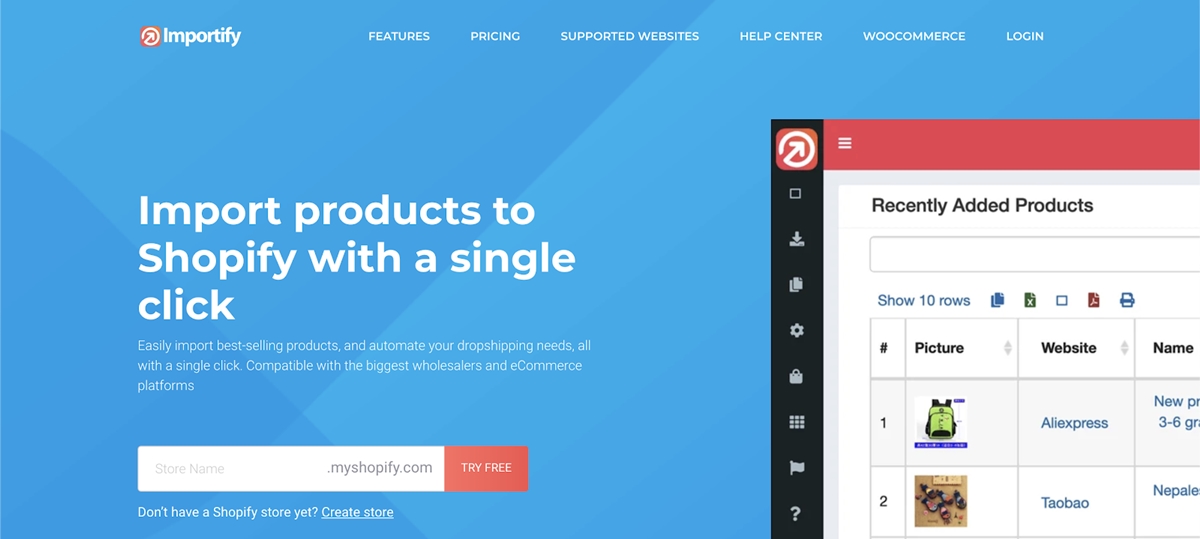 Importify is one of the most user-friendly apps for dropshipping available on The Shopify app store. It enables you to import products from a decent number of suppliers such as Aliexpress, Amazon and Banggood. If you're looking for a dropshipping app that provides you with excellent and straightforward service, Importify is definitely a great candidate. The app provides you with one-click execution for most of its dropshipping operations, so you can spend less time learning how to use it and more time on selling your products.
Importify's advantages:
It provides you with a large selection of eCommerce suppliers to source products.
The app is super easy to use.
Importify's integration with Shopify is seamless.
Importify's disadvantages:
They offer a 1-day trial only.
There's no free plan to test the app and its services.
Pricing:
Importify offer three pricing plans for you to choose from. You can check its full pricing page.
Basic ($14.95/month)
Unlimited product imports.
Aliexpress & Amazon Not Supported
Unlimited Product Import
Shopify To Shopify Importer
Product Customization
Pricing Rules
Free Chrome Extension
Support 24/7
Premium ($27.95/month)
Full Supported Websites
Unlimited Product Import
Shopify To Shopify Importer
Product Customization
Pricing Rules
Free Chrome Extension
Support 24/7
Gold ($37.95/month)
Full Supported Websites
Unlimited Product Import
Shopify To Shopify Importer
Semi-Automatic Order Fulfillment
Product Customization
Pricing Rules
Free Chrome Extension
Support 24/7
9. Gooten: eCommerce Print On Demand Solutions

Gooten is a print-on-demand fulfillment dropshipping service. It provides you with more than 100 products for you to print and dropship. You can print your own designs or even photos with the service, and then Gooten will deliver directly to your customers. You don't need to handle the product making, inventory keeping, product fulfillment, etc as the service handles all of them for you; all you need to do is selling. Gooten's offerings are a wide collection of kitchen & bathroom products, home decor items, photo books, cards, wall arts, apparel and more.
Gooten's advantages:
There are no minimum orders
There are no hidden fees
The app is free to use
Gooten provides worldwide shipping
Gooten provides you with 100+ products to select from. You can see Gooten's full product catalog here
The customer service is great.
Gooten's disadvantages:
Gooten does not offer branding services offered
The app is not really well optimized when it comes to user experience
10. Dripshipper: US Dropshipping

Dripshipper is one unique kind of dropshipping services that you might never hear of. They don't dropship regular products from top dropship suppliers, but their focus is only one single product, coffee. With Dripshipper, you can dropship coffee to your customers. You can even build your own coffee brand with Dripshipper as they provide private-labeling service. That means all the coffee that you dropship with them can have your brand name and logo on it.
Dripshipper's advantages:
Suppliers on Dripshipper are US-based.
Dripshipper provides private-labeling.
Turnaround times are quick.
Dripshipper has a very responsive customer support team.
Dripshipper's disadvantages:
The only product that they offer is coffee, so you can't diversify your list into other products.
Shipping times outside of the USA are long.
Pricing:
Dripshipper provides just a single paid plan that comes with all of its features, and they also offer a 14-day trial.
Unlimited ($25 per month)
Unlimited Orders
Automatic Order Fulfillment
1-Click Product Add
11. Modalyst: Dropshipping App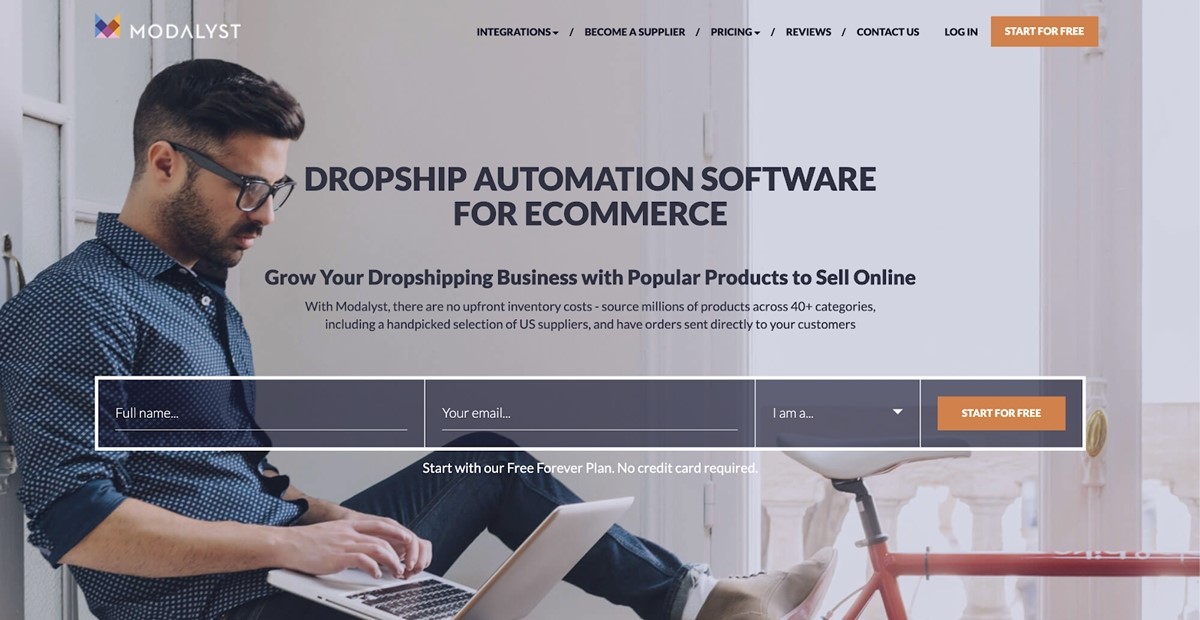 Modalyst is one powerful app for dropshipping in this list. It provides a very wide range of ready-made products from independent, strong brands from many regions around the world. A large number of suppliers on Modalyst are true brands themselves, so they take pride in their products and the high quality they can ensure. These suppliers tend to work with their close shipping partners who they have examined very carefully, so you can rest assured that they are well equipped to handle fulfillment and shipping for you.
The product offerings on Modalyst include men's and women's shoes, bags, apparel, bridal wear, homewares, beauty products, accessories. Within each category, there are thousands of products for you to choose from. Modalyst can be connected directly with your Shopify store. That enables you to add products with one click, and prices are updated automatically.
Modalyst's advantages:
You won't have to pay any upfront inventory costs.
There are no minimum orders.
You will be provided with order tracking for every order.
You can communicate directly with any Modalyst supplier you work with.
You can import or remove products out of your Shopify store easily.
You can work with a ton of different brands easily by managing all of the interaction and workflow via just one dashboard.
You will have a huge collection of products to select from.
On Modalyst, you're required to pay the supplier 60% of the retail price suggested by the supplier regardless of your actual selling price. The rest is your revenue. 40% off retail pricing is a really good offer for dropshipping businesses.
Modalyst's disadvantages:
When an order is placed on your website, your supplier will get a notification from Modalyst, and then they can start preparing the order, but before they ship it out to your customer, you will have to pay for the order on Modalyst first. This part of the process is not automated, and it can get really busy, depending on how many orders you're receiving.
If you're selling a brand-name product, you're expected to sell the product at the supplier's suggested retail pricing or higher. If you want to sell at a certain price point that you think the supplier might disagree with, you can talk to them and ask for permission.
You must sign up for Modalyst's Pro or Business Premium plans to gain access to their full network of suppliers.
Brandability options are limited. As suppliers will be delivering products to your customers on behalf of you, you won't be able to custom your packaging.
Pricing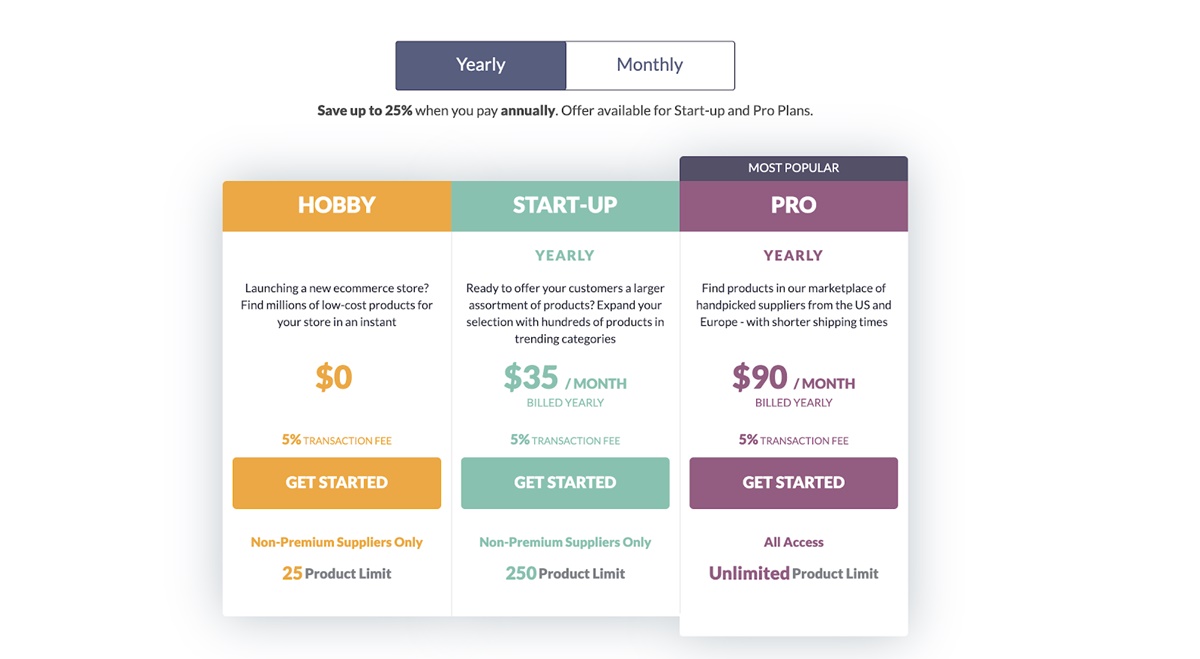 Modalyst's pricing includes four plans starting at free. Each plan will come with a different set of features, and you should choose your plan based on your current needs. You can always upgrade whenever you want. Here are the four Modalyst's pricing plans:
The Hobby plan:
Non-premium suppliers only
25-product limit
5% transaction fee
The Start-up plan:
Non-premium suppliers only
250-product limit
5% transaction fee.
The Pro plan:
Access to both non-premium and premium suppliers
5000-product limit
5% transaction fee
The Business plan:
Access to both non-premium and premium suppliers
Unlimited product
2% transaction fee.
12. Pillow Profits Fulfillment:
Pillow Profits Fulfillment is among the very few Shopify apps that specialize in dropshipping shoes and some other accessory products. This app enables you top dropship shoes of many different types and styles. Its collection includes everything from sports shoes, faux fur boots to high heels, flip-flops, and many more.
On top of shoes, Pillow Profits Fulfillment also supplies accessory products such as handbags, totes, socks, and bedding products. This service provides private-labeling, so you can have your brand logo printed directly onto all of their products to build up your own brand.
Pillow Profit Fulfillment's advantages:
You can create custom-printed shoes, bedding & accessories with your own brand.
They provide free worldwide shipping as the cost of shipping is included in the product cost.
The app integrates with your Shopify store easily.
You can have complete control over your orders to edit customer addresses, sizes, or to cancel orders if need be.
You can create digital mockups of your designs on their products to use for your store's product photography and advertising.
When orders are placed on your store's website, they will be automatically forwarded to the Pillow Profits Fulfillment app.
Pillow Profits Fulfillment handles all product manufacturing, printing, packaging, and delivery for you.
Pillow Profit Fulfillment's disadvantages:
Order tracking is not available for every country.
Only compatible with Shopify
There are no half sizes available for shoes besides the size 7.5.
Pricing:
With Pillow Profits Fulfillment, you can have a 7-day free trial. After that, their service is $29.99/month. The delivery cost is included in their product pricing, and there are no hidden costs.