What is the Best Podcast Hosting?
Here are my top picks for the best podcast hosting:
The Best Podcast Hosting for Beginners (Free – $12/month + $20 Amazon Gift Card).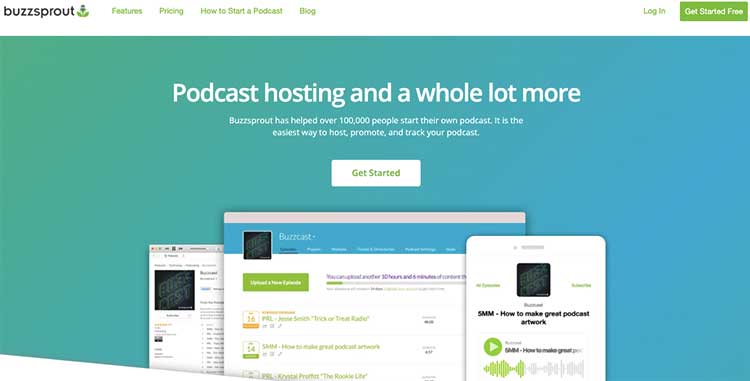 Buzzsprout is my #1 pick for many reasons.
They're a host that's been in business since 2009 and are trusted by over 100,000 podcasters. Plus, they're one of the only companies that offer a totally free plan with unlimited team member accounts.
Key Features:
Buzzsprout allows you to embed a podcast player right on your website – and you can feature just one episode or a whole playlist of episodes: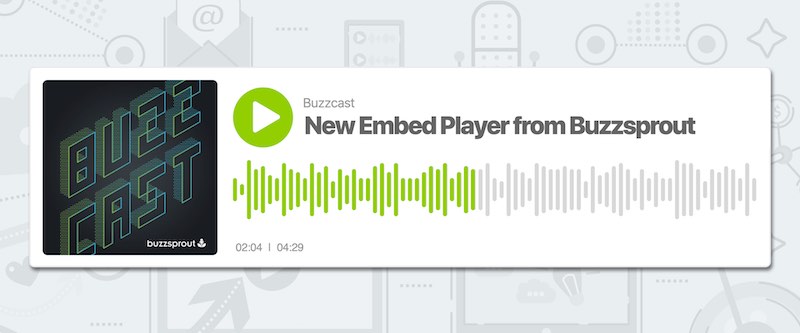 They offer an easy-to-use analytics dashboard with an algorithm that estimates how many listeners each episode receives within the first 90 days. You can also view which countries your listeners are tuning in from to help you understand your audience.
These analytics features are super helpful and better than most other tools on this list.
Audio quality is also great as you can upgrade to 128k stereo optimization for better sound. Not only that, but they also offer podcast transcription services as an extra add-on.
They make it super easy to upload and schedule your podcast too. You simply upload your audio file, change the episode title and description, and submit your podcast to all significant directories: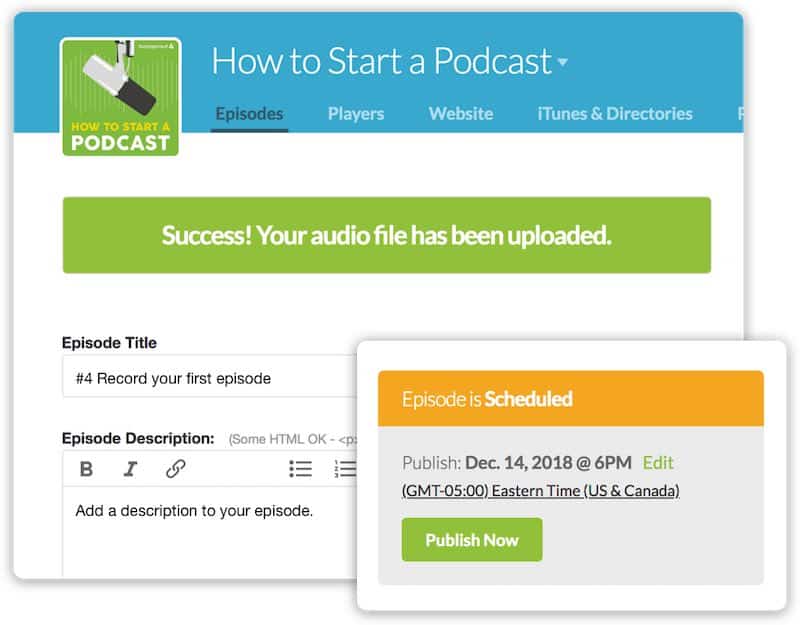 Another benefit is that you can easily add episode chapter markers. This feature helps listeners better understand quick details about your episodes at a glance. These aren't required (and don't appear on every podcast app), but are a nice feature nonetheless: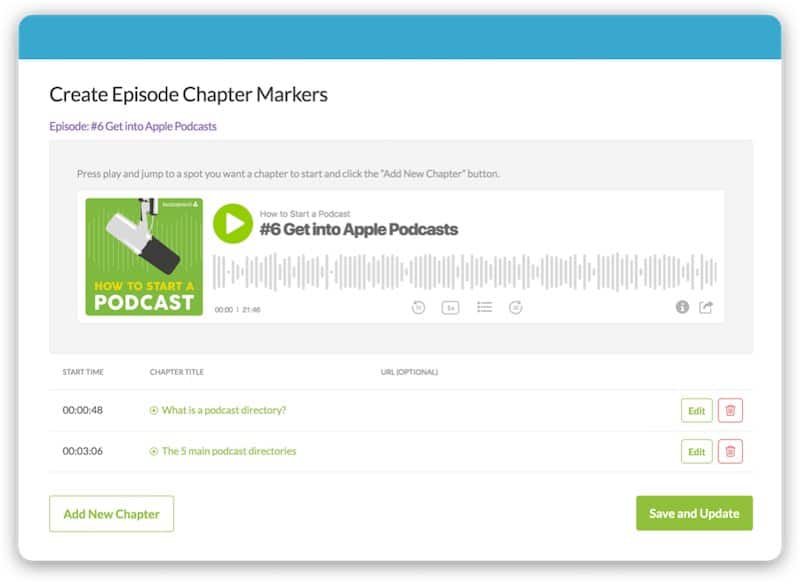 Pricing:
Their free plan allows you to upload two hours of content hosted for 90 days. If you're serious about podcasting, you can scale up and upgrade your plan based on how many hours of content you need to upload per month.
Free: upload 2 hours each month and episodes hosted for 90 days.
$12/month: upload 3 hours each month, hosted indefinitely, unlimited storage.
$18/month: features above, plus upload 6 hours each month.
$24/month: features above, plus upload 12 hours each month.
Ultimately, with their month-to-month pricing and an easy-to-use dashboard, Buzzsprout is my #1 choice.
I recommend you get started for free and then upgrade to any plan you want based on how many hours of content you plan to upload each month.
As an added bonus for my readers, when you sign up for Buzzsprout and upgrade, you get a free $20 Amazon gift card. 🙂
Best Content Management System and Monetization (Free – $120+).
Spreaker is a one-stop-shop for podcasters. From newbies just getting started to publishers developing tons of content, Spreaker has a solution for making any podcasters journey a smooth and profitable one.
The podcasting platform connects listeners, podcast creators, and advertisers in one place (both web and mobile apps) and makes it really easy for any type of content creator to monetize their entire podcast catalog.
Key Features:
Content management system – allows podcasters of any "level" to automatically enable the distribution of new episodes to the major listening platforms (Apple Podcast, Spotify, Google Podcast, iHeartRadio, Alexa, Deezer, etc.)
Manage and schedule multiple podcasts under the same account, and to
Strategically set your monetization (provided via dynamic ad insertion) at the episode and show level.
Team management features and can add collaborators.
Statistics certified by the IAB.
Pricing:
Free Speech (Free): 5 hours of audio storage, up to 10 episodes.
On-Air Talent ($5.50/month): 100 hours of storage.
Broadcaster ($16.50/month): 500 hours of storage.
Anchorman ($41.25/month): 1,500 hours of storage.
Their most popular plan is the Broadcaster Plan at $18/month. With that plan, you get 500 hours of audio storage, advanced stats, and their monetization features.
As a bonus, with my Spreaker affiliate link, you get one month completely free and the price adjusts accordingly:
As a bonus, my readers get one month free when you sign up for Spreaker.
Best Built-In Podcast Analytics ($19-99/month).
Transistor.fm is a high-quality, professional service that hosts some popular podcasts including Drift, Honeybadger, and Cards Against Humanity.
They are known to provide their podcasters with built-in analytics and absolutely everything you need to grow your podcast audience.
Key Features:
Host unlimited shows.
Manage multiple users per account.
Generate branded websites with your own domain name
Distributing your podcast to major networks.
View advanced analytics and reporting.
Their analytics tools are where they stand out. Their dashboards show you trends and stats like average downloads per episode, the number of subscribers, and downloads over time.
Additionally, if you use another hosting platform like Libsyn or Anchor, you can easily import your existing feed into Transistor with simple migration tools.
Pricing Plans:
Starter Plan ($19/month): Provides unlimited podcasts and episodes, up to 2 users, and 10,000 downloads per month.
Professional Plan ($49/month): Everything in the starter plan, but now with up to five team members and 50,000 downloads per month.
Business Plan ($99/month): All features in the previous plans, but with up to 10 team members and 150,000 downloads per month.
Transistor allows you to scale your podcast (and pricing) as your audience grows.
In the end, your plan choice will most likely depend on the number of downloads you need per month, so you can get started with their Starter Plan and upgrade when you need to.
If you take podcast analytics seriously, start your 14-day free trial of Transistor (and get two months free when paid annually).
Best Easy Podcast Hosting ($29/Month + 1 Month Free).
PodBean is my #4 recommendation. They've been in the podcasting hosting space for over 10 years, host 540,000 podcasters, and are the easiest-to-use host on this list.
Key Features:
5 hours of storage on the free plan.
Unlimited storage on the $9/month plan.
Dynamic ad insertion.
Patreon program to accept recurring revenue from listeners.
Auto-uploads to YouTube.
Mobile app.
Auto-posting to social media like Facebook and Twitter.
Pricing:
Basic (Free and Open-Source): 5 hours of storage and 100 GB monthly.
Unlimited Audio ($9/month): Unlimited storage and bandwidth, pro themes, advanced design, and ad marketplace.
Unlimited Plus ($29/month): Features above, plus Patreon program and dynamic ad insertion.
Business ($99/month): Features above, plus multiple domains, private podcasts, advanced statistics, and live chat support.
I recommend podcasters serious about running their professional show get their $29/month PodBean Unlimited Plus Plan as you get unlimited audio hosting and video storage.
Overall, PodBean is my #4 choice and the best easy podcast host with great video and YouTube features.
Industry-Leading Features Powering Top Brands ($15/Month).
Simplecast is known for is its industry-leading features starting at just $15/month.
They live up to their name and state on their website:
"From your first listener to your first million, Simplecast provides powerful tools needed to manage, distribute, share, and grow your podcast."
Simplecast has been around for over six years and powers some of the largest brands in podcasting, including Kickstarter, Nike, Facebook, and HBO.
Key Features:
One-click publishing.
Multiple web players and podcast players.
A fully-functioning website.
Advanced analytics tools.
Collaborate with multiple team members in one account.
One standout feature is their Recast™ tool, which allows you to schedule and share clips of your podcast on social media. Here's an example of that feature from The Pilot Podcast on Instagram:
Pricing:
Basic Plan ($15/month): Unlimited storage and uploads, two member accounts, customizable show website, 20k downloads per month, an embeddable web player, and email support.
Essential Plan ($35/month): All basic plan features, plus two extra user seats, additional web players, location (country and state/region) and technology (apps, browsers) analytics, 50k downloads per month, and the addition of chat support.
Growth Plan ($85/month): All features of previous plans, plus 5 more extra user seats (9 total), ISP analytics, detailed metro area location analytics, and 120k downloads per month.
Ultimately, if you're just starting out, the Basic Plan will work out for you just fine. While the analytics tools are cool, you only need to upgrade if you need more users or downloads per month.
For industry-leading podasting on a budget, get started with a 14-day free trial of Simplecast.
Best for Marketing and Growing Your Audience ($19/Month).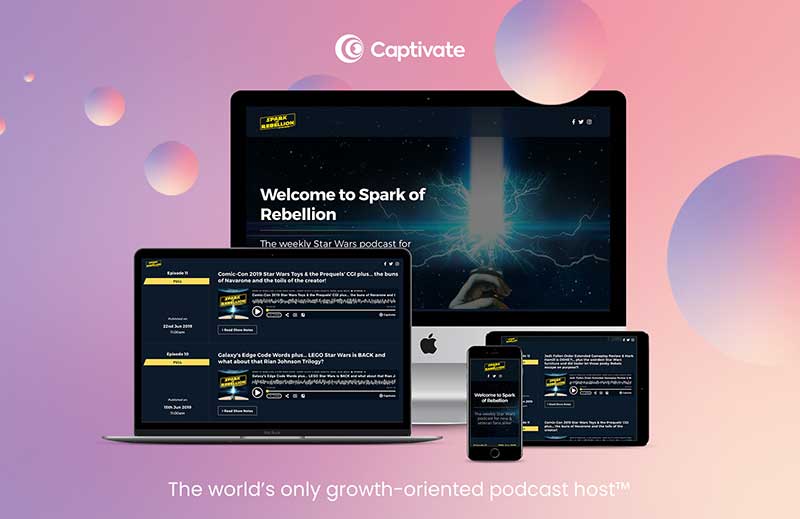 Captivate is a brand new podcast host that is hyper-focused on growing podcast audiences. They were created by Rebel Base Media, which also runs Podcast Websites.
This new addition is their best product yet, as they took everything they learned from years of podcast experience and putting into one new podcast hosting product.
Key Features:
All plans come with an unlimited number of podcasts, unlimited team members, a new podcast player, advanced analytics, and marketing tools.
A few standout growth features are their automatic podcast website and built-in calls to action. Every plan comes with a customizable, mobile-friendly website with donation support built-in.
Second, you can build your email list and generate new leads with podcast player calls to action. For example, if someone is listening to your podcast player, they can sign-up directly to your email list via an opt-in form.
Captivate is also constantly upgrading its analytics software. They work with the Interactive Advertising Bureau (IAB) to create more insightful intelligence to monitor the performance of your show.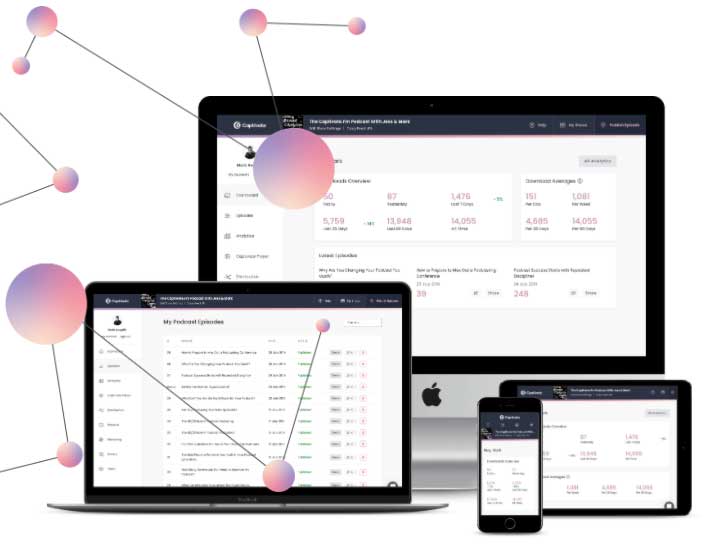 You can also easily import your show from another podcast host like Blubrry with one simple import tool. Their podcast marketing tool allows you to automatically generate links to places like Overcast and Pocket Casts, which helps new subscribers find your show easily.
Pricing:
Podcaster Plan ($19/month): Up to 12,000 downloads per month.
Audio Influencer Plan ($49/month): Up to 60,000 downloads per month.
Podcast Brand Plan ($99/month): Up to 150,000 downloads per month.
With a ton of great podcasting features in every plan and simple pricing that scales as you grow, Captivate is going to make waves as a new player in the space.
If you're looking for a growth-oriented podcast host with lots of marketing features, get a 7-day free trial of Captivate.
Best WordPress Podcast Hosting Solution ($19/month).
Castos is a full-featured podcasting plugin for WordPress.
If you already have a WordPress site, here's how it works:
You go to the Castos website and start your 14-day trial.
Install their WordPress plugin.
Next, when you're ready to host your episodes, you add them into the new Podcast section inside of WordPress:
Upload your audio file, type in your description, and the podcast will go live on your site with a customizable media player:
That's it. When you're ready to add your podcast to directories, you grab your URL and add it to any publisher you'd like.
Key Features:
Automatic transcription – upload your audio files and transcriptions are added to your dashboard within minutes.
Republish to YouTube.
Podcast editing services by Castos Productions.
Customizable podcast webpage.
Podcast analytics.
Pricing:
Starter ($19/month): unlimited storage and perfect for the essentials.
Growth ($49/month): Features above, plus YouTube republishing and custom audiograms.
Pro ($99/month): Features above, plus advanced analytics and video file hosting.
Overall, if you're looking for podcast hosting for WordPress, Castos is the best choice.
Get started with a free 14-day trial and get 2-months free on annual plans. 
New Podcast Hosting with Unlimited Episodes (Free – $39/month)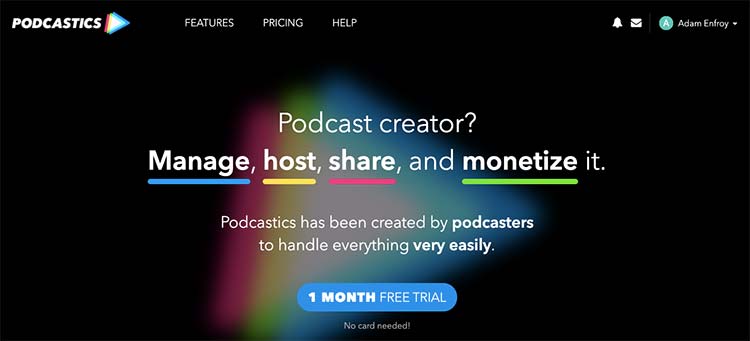 Podcastics is a new podcast hosting option that's very easy to use and offers competitive features.
Like PodBean, their dashboard is very intuitive. When you first get started, you can set your podcast details with just a few clicks and quickly manage user permissions. If you already have a podcast, you can automatically import it from Apple Podcasts or from any RSS feed.
And if you're a podcaster with multiple podcasts, you can build teams within the dashboard, which is great for studios and agencies.
Some of their other main features include:
Podcast analytics, including plays, days and hours, sources, and locations.
Live streaming capabilities.
Podcast and episode editing tools.
The ability to schedule episodes.
Smart features like QR codes, smart links, surveys, and heat maps.
Podcastics has 5 pricing plans – all offering unlimited episodes. However, unlimited bandwidth and storage start at their $8/month Pro Plan.
Overall, Podcastics is a new, easy-to-use podcast hosting tool with great UX, smart features, and analytics.
Get started with a 30-day trial. 
The Best Toolbox of Podcasting Software ($8/Month).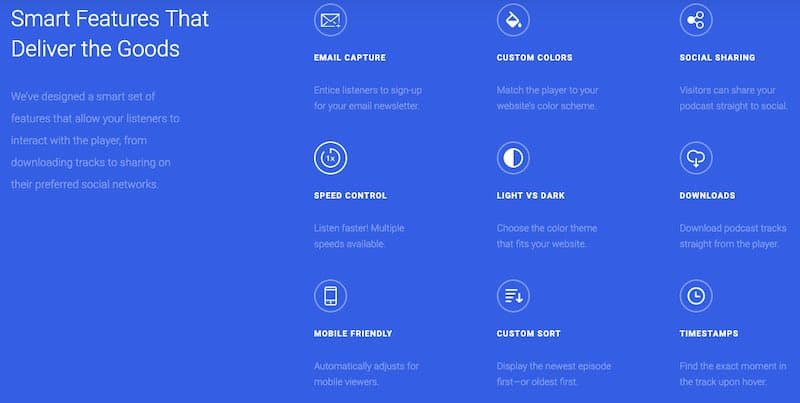 Fusebox is a great invention created by famous podcaster Pat Flynn of Smart Passive Income. After years of podcasting, he was looking for the best possible podcast player for your website that your visitors will love.
Who better to create the perfect podcasting product than a prolific podcaster himself?
Fusebox has a lot of great features, including email capture (one of the only podcast players to offer this) and other top-notch features.
They have a transcript plugin with SEO-friendly live text that automatically adds podcast transcripts to your website.
And if you're interested in how the player works, it's very straightforward.
You install the Fusebox WordPress plugin and add your RSS feed. Next, you enter your subscription URLs to push your show to the major directories. Finally, you customize the colors of your podcast player, and then add the player to your posts and pages.
Overall, if you want to host your files, send them to podcast networks, and display them on your WordPress website, try Fusebox.
If you're looking to add some great podcasting tools to your arsenal, check out Fusebox.
Best Podcast Hosting Platform for Website Builders ($67/month).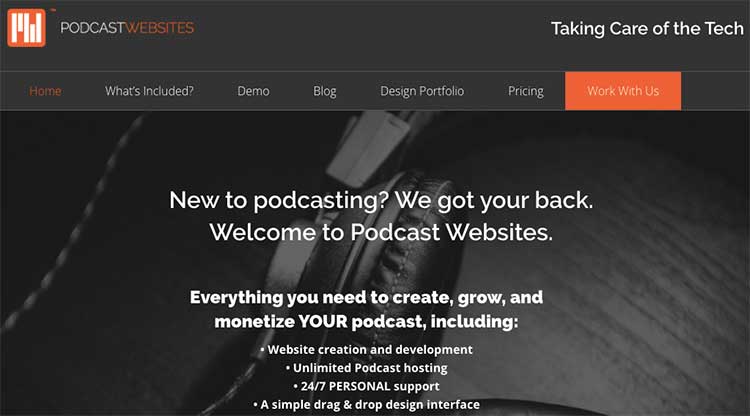 This podcast host features a simple podcasting workflow that allows podcasters access to the fully responsive website hosting and security, daily backups, built-in statistics, and 24/7 support.
As a Podcast Websites member, you also receive digital marketing support to help promote your podcast, ads, and podcasting advice from real, experienced podcasters.
Their academy features video tutorials, media, and a helpful community forum to discuss strategies with other podcasters too.
Additionally, you can use Builder – a drag and drop website builder with themes unique to podcasters. These themes are mobile-friendly, and you can also add landing pages when you need to market your podcast.
Podcast Websites is a high-quality podcast hosting option and you can use my coupon code HOSTME to get $10 off per month for life.
11. Audioboom.
Best for Dynamic Ads and Monetization ($9.99/month).
Audioboom is a popular site that gives you simple hosting, distribution, and an embedded player. What they're primarily known for is their help with podcast monetization.
Once you hit 10k plays per episode, they provide tools to create dynamic ads and sponsorships for your show.
Some other features include an embeddable player with social media integrations and analytics broken down by geographic region, app, and device.
To get started, their $9.99 plan gives you: 
Unlimited episode uploads per month
Up to 10k per month with their standard plan and 25,000 plays per month with their plus plan
Advanced analytics that provides breakdowns by geographic area, app, and device
Embeddable players for a website or social media integration
Overall, Audioboom is a solid podcast host with good monetization features.
What is the Best Free Podcast Hosting?
There are low cost and even free options you can pick from if your budget is tight. Many of the free plans come with limited functionality, but if you're starting, free hosting services a great way to test out their features.
You might not be able to host hours of content on your podcast server, but a free trial or free plan can get your feet wet in how podcast hosts work.
Here are my picks for the best free podcast hosting.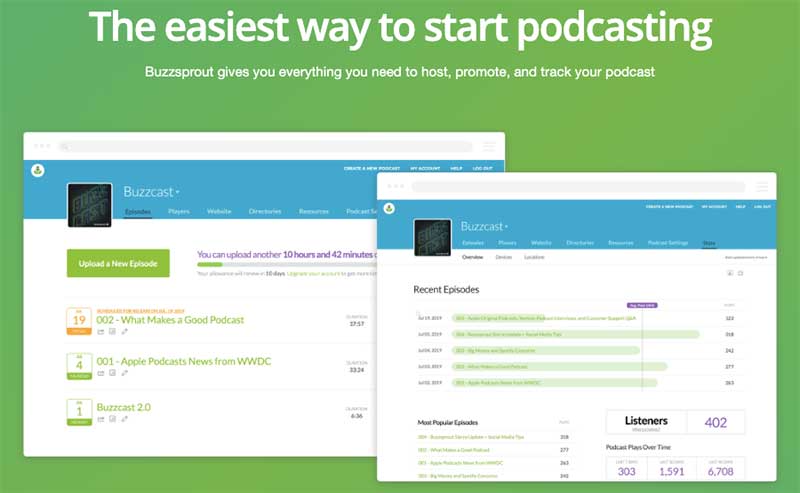 Buzzsprout's free podcast hosting plan provides the most features compared to every other host on this list.
With their free plan, you get two free hours of upload time, hosted episodes for up to 90 days, and a complete podcasting dashboard. If you are just getting started in podcasting, the Buzzsprout free plan is the perfect way to get your feet wet in podcasting and learn the ropes.
When they say they're the "easiest way to start podcasting" they're not lying. With Buzzsprout, you can easily upload your file, add them to every major directory, and start tracking your listeners with their advanced analytics.
Pricing: Free – $24/month
Website: buzzsprout.com
2. Libsyn
Libsyn is one of the most popular hosts focused on helping everyone from novices to podcasting pros looking to monetize their work quickly. They are also one of the original podcast hosts, launching in 2004.
With over 35,000 hosted podcasts, 62 million+ audience members, and 4.6 billion podcast downloads in 2016, they are a prominent player in the space. Like other podcast hosts, they give their users between 50 and 1500MB of monthly storage, provide analytics reports, RSS link generation, premium content, and their app.
Yes, they aren't 100% free as their plans start at $5, but for that value, I had to add them to the list.
Pricing: $5 – $75 per month
Website: www.libsyn.com
3. SoundCloud

SoundCloud is the world's largest music and audio hosting site and introduced its hosting platform in 2015. They boast 175 million unique monthly visitors and an incredible 12 hours of content uploaded every minute on their website.
Using their hosting services, you get access to all of their embedded players, Twitter cards, and timed comments. With a free account, you can upload 3 hours of content per month and get basic reporting.
The more advanced SoundCloud Pro Unlimited account gives you unlimited upload time, scheduled releases, embed controls, and the ability to pin five podcasts to your profile.
Price: Free to $16 per month ($12 when paid annually)
Website: www.soundcloud.com
4. Podomatic

Podomatic allows creators to record, upload, and promote your new audio content, all in one dashboard. One of their strengths is the ability to develop your podcast advertising and crowdsourcing with the help of Patreon and Advertisecast.
Plus, Podomatic has social sharing options, and your podcast can be played directly on Facebook and Twitter feeds. They are partnered with Weebly to help you create a website and have a free podcast app for iOS and Android.
In addition to their free plan, they have four pro plans ranging from $9.99 to $24.99 per month.
Pricing: Free to $60+ per month
Website: www.podomatic.com
Best WP Podcast Hosting Runner-Up ($12-80/month).
Blubrry is a great podcast hosting service that offers not only hosting but managed WordPress hosting with PowerPress, the #1 WordPress plugin for podcasters. With over 75,000+ active installs, this plugin is consistently maintained, free to use, and offers SEO options, and MP3 tagging.
The Blubrry website says, "Blubrry believes we should provide you great tools and not interfere," highlighting their creator-first approach. They offer a podcasting manual, which gives you a ton of detailed information on using their services, as well as tips and advice to succeed with your new podcast.
Their lowest cost option is $12/month and offers 100MB of storage. If you want unlimited hosting services, you can upgrade to their professional plan.
In addition to their professional plan with custom pricing, they have four paid plans ranging from $12 to $80, which offer anywhere from 100MB to 1,000MB/month of storage space.
Blubrry is quickly becoming one of the top-rated choices because of its customer-first approach. They are also IAB compliant according to the Interactive Advertising Bureau.
Disclaimer: This article contains affiliate links that I receive a small commission for at no cost to you. However, these are merely the tools I fully recommend when it comes to podcast hosting. You can read my full affiliate disclosure in my privacy policy.
What is Podcast Hosting?
Podcast hosting provides the file hosting and RSS feed for your podcast. Hosting companies upload your audio files, tell the hosting platform your show's details, and generate your feed. When a user subscribes to your podcast, the podcast host sends the audio files and media to the platforms directly.
Overall, a podcast is a series of audio files that are bundled into a single file. Naturally, they require a lot of space and bandwidth to be stored. However, personal website servers don't have the amount of storage needed for files that large.
Podcast hosting sites offer you the space to store your files so that your audience can easily download them.
In the end, it's a simple setup. It's made up of a webserver to allow file downloads, the .mp3 files themselves, and an RSS feed describing your audio file. The best providers do much more than that.
What Are Podcast Directories?
Podcast directories are services like iTunes, Spotify, and Google Play. They receive your podcast files, and RSS feeds, and push them to their front end systems.
These directories easily allow your audience to find your show with a podcast app, their computer, iPhone, or Android device.
Here's how it works.
You upload your audio, and when the directory detects something new in your feed, it downloads the file and displays the latest episode to its users.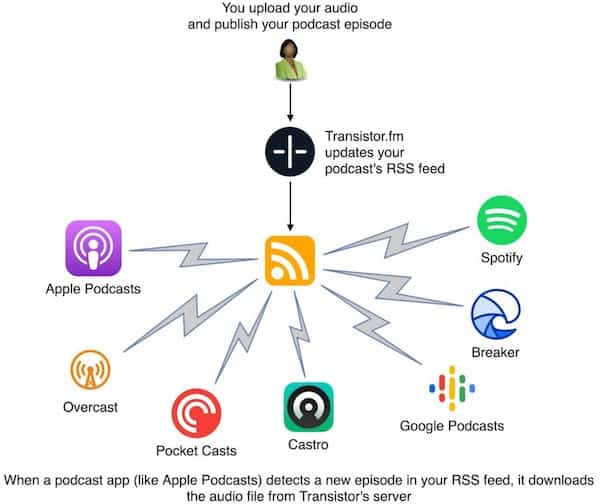 Source: transistor.fm
What Podcast Platforms Should I Publish My Podcast On?
So after you've chosen a podcast host, how do you release your podcast? It's simple. Once you upload files to your podcast host, you're ready to decide where you want your audience to find you.
These directories ensure you get in front of the most listeners and your feeds are updated automatically after each episode. Here's a quick list of some of the top podcast platforms.
1. How to Submit Your Podcast to iTunes.
iTunes is one of (if not the) most popular podcast apps. In March 2018, Apple Podcasts passed 50 billion all-time podcast downloads and over 550,000 shows. Impressive numbers!
Here's how to get your podcast uploaded:
1. First, make sure you have an active Apple ID to submit your podcast.
2. Sign in to iTunes Connect.
3. Click on the top-left area of the podcast dashboard and enter your RSS feed into the text box.
4. All of your podcast's information will load from your podcast host and show you a feed preview. Make sure that all of your text and artwork looks ready to go.
5. Click submit and wait for the approval.
2. How to Submit Your Podcast to Google Play.
Google Play is another one of the most popular apps, with over 1 billion monthly active users. They also have a new service called Google Podcasts, which is a way to discover free and trending podcasts.
Here's how to submit your podcast to Google Play:
1. First, make sure you have an active Google account and go to Podcasts in Google Play Music.
2. Click the Publish button, login to your Google account, and accept their terms of service.
3. Next, enter the URL for your RSS feed.
4. Click submit and check your inbox for a verification email, proving you own the podcast.
5. Click publish and wait for the approval.
3. How to Submit Your Podcast to TuneIn.
TuneIn is a growing site with over 75 million listeners and over 120,000 live radio streams. They also have a lot of live sports, music, news, and global Internet radio stations.
Here's how to submit your podcast to TuneIn:
1. Fill out the TuneIn contact form and add all of your podcast information.
2. Accept their terms and condition.
3. Click submit and wait for the approval.
4. How to Submit Your Podcast to Stitcher.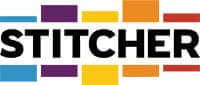 Stitcher is an on-demand radio service that is focused on informational news broadcasts and podcasts.
Here's how to submit your podcast to Stitcher:
1. Apply on their content provider page and enter your information.
2. Once logged in and approved, add your new show.
3. Add your podcast's RSS feed and click submit.
4. Wait to get approved.
5. How to Submit Your Podcast to Spotify.
Spotify is quickly becoming one of the largest podcast sites, boasting an impressive 191 million active listeners and 87 million paid subscribers. Their premium plan is $9.99/month and allows users to download music, listen ad-free, play any song with unlimited skips, and feature higher quality podcast audio.
In the past, you couldn't get your podcast on Spotify within their website itself. Instead, you were forced to use your host and push your podcast to Spotify that way. However, that has changed.
They just released their beta program Spotify for Podcasters where you can learn how to upload your podcast and get started right away. All you have to do is log in to your account, submit your RSS feed and they do the rest.
If you'd like to go the old fashioned route, this article will help you get your podcast on Spotify as your hosting provider.
What is the Best Podcast Equipment I Need for My Show?
If you're ready to start recording your episodes, you need to purchase some podcast equipment. In its purest form, all you need to start a podcast is a computer and a microphone. But that's kind of like saying all you need to start an e-commerce business is a website – there are tons of different options.
However, I've narrowed it down to the essential podcast gear to get started with items that I own.
Here are my top picks for the best podcast equipment.
1. Blue Yeti: Best Podcast Microphone.
Don't use your computer's built-in microphone. Start with a USB microphone instead – they're affordable and super easy to use. Just plug in your microphone into your laptop, switch your audio input settings, and record.
The only consideration for microphones is whether you choose a dynamic or condenser mic. Typically a condenser mic is best for one-person shows, and dynamic mics are useful for recording a group.
A fantastic and highly-rated condenser podcast microphone is the Blue Yeti
A high dynamic mic is the Audio-Technica ATR2100
2. MacBook Air: Best Laptop for Podcasting.
You don't need the latest and greatest laptop to start a podcast. Most computers will do just fine. Make sure that your machine was built at least in the last three years. It will also need to be able to handle your audio software.
I use a Macbook Air, currently discounted on Amazon.
3. Logitech C920S: Best Webcam for Streaming.
If you're getting into podcasting, you need a good webcam. Your webcam can be used to record video podcasts and upload them to YouTube. More importantly, your webcam will be used to look professional in meetings.
I must say, one thing that podcasters are great at is looking good on video. Every podcaster I've met via Skype or Zoom had a microphone with a boom arm, crystal clear video, and a nicely-designed background in their room or office.
For audio podcasters, a video may not be vital for your episodes themselves, but more for meetings, you'll have with interviewees, influencers, and potential sponsors.
And you don't have to shell out hundreds or thousands for an expensive camcorder or DLSR camera. You need a good webcam for streaming in at least 1080p.
1080p and even 4k webcams are very powerful nowadays (and affordable).
The webcam that I use and recommend is the Logitech C920S.
4. Audio-Technica ATH-M50x: Best Headphones for Podcasting.
Since audio quality is one of the most critical aspects of your show, a good pair of headphones can listen for p-pops, distortion, feedback, and other issues. You'll want a pair of closed-back headphones so that none of the sound coming through the headphones gets picked up by your microphone.
A pair that I like that's under $150 are the Audio-Technica ATH-M50x professional headphones.
5. Mackie PROFX8V2: Best Mixer for Podcasting.
A USB mixer helps manage inputs, outputs, levels, and effects. Reverb, flanging, delays, echos, and other effects are not only fun to mess around with, but give your show a professional sound.
My favorite mixer for podcasting is the Mackie PROFX8V2.
What is the Best Podcast Software to Record My Episodes?
After you've chosen a podcast host and know where you want to publish your show, it's time to start recording your audio with podcast software. It's pretty easy. With a quality microphone and some podcast recording software, you can quickly get your media recorded, edited, and launched like a pro.
Here are some of the best software options to start recording your high-quality audio.
1. Anchor.
Anchor touts themselves as the easiest way to start a podcast. Ever.
And I have to agree. Anchor's free podcast recording software allows you to record high-quality audio. Next, you record an unlimited amount of episodes and distribute them to all major websites with one click.
Anchor makes it easy to drag and drop different audio clips to rearrange segments in your episodes. They also give you a free landing page with a custom URL for your show.
With its unlimited free hosting, recording capabilities from anywhere, and one-click distribution, Anchor is the best podcast software on the market.
Try Anchor recording software today.
2. Zencastr.
Zencastr allows new and professional podcasters alike the ability to record themselves and their remote guests in studio quality right from a web browser. To record your podcast guest in another location, you send them a link and then receive a separate audio track.
This live recording via a VoIP connection connects users through the local microphones. As the podcast host, you press record, and each person's audio logs from the web browser, without any compression or artificial sounds decreasing the audio quality.
Zencastr is also great for collaboration, as you can share your audio files via Google Drive and Dropbox.
With their free plan, you get up to two guests, 8 hours of audio recording per month, and only pay per use in post-production. If you upgrade to their Professional plan at $20/month, you get unlimited guests and recordings, a live editing soundboard, and 10 hours of automatic post-production every month.
Try Zencastr podcast software.
3. Avid Pro Tools.
Pro Tools is a digital audio workstation (DAW) from Avid Technologies. It is a high-end audio product with crazy amounts of power. I remember using Pro Tools in an advanced audio engineering course back in my college days to mic up and record a live band.
You don't need this powerhouse to record your podcast. However, if you want the absolute best tool or want studio-quality podcast software, Pro Tools is your #1 choice.
It costs $299 for a 1-year subscription, and you get $850 in bonus gifts, including Pro Sound Effects, tutorials, and royalty-free music. You can also buy it on Amazon.
If you'd like to check out more software options, check out my guide to the best podcast software to use this year.
What Are the Benefits of Podcast Hosts and Why Do You Need One?
Podcasting has become a great way to build an online brand and make money from your show. For example, Joe Rogan's JRE podcast is estimated to make him an unbelievable $30,000 per episode.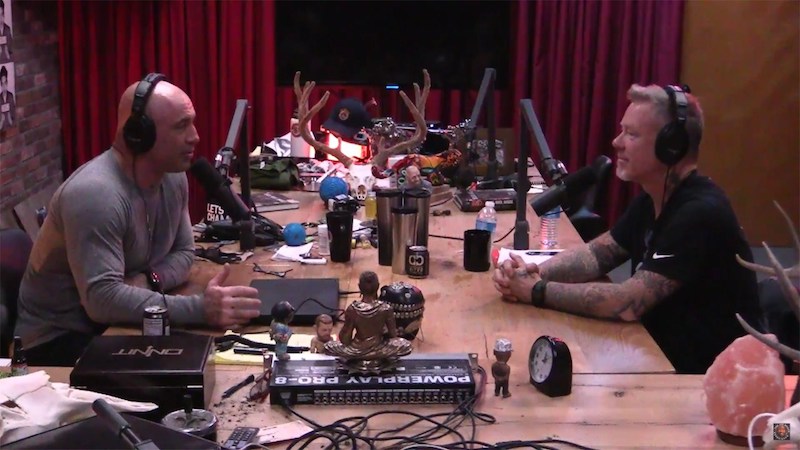 Podcasting is something to take seriously, so don't skimp out on your host. Here're some of the most significant benefits of using podcast hosting sites:
1. No Compromise in Quality.
Usually, personal servers have limited space to spare.
If you decide to store a podcast on your server, you'll have to make a compromise between quality, speed, and storage space. This leads to deterioration in the quality of the podcast since you need to cram a large number of files within a limited space.
Podcast hosting platforms, on the other hand, have inbuilt servers that are able to host large podcast files while maintaining the highest quality. This means that you don't have to worry about quality any longer.
2. Podcast Hosting Sites Can Handle Data Transfers.
Podcasts are delivered via RSS (rich summary site) feeds. When you store your podcast files in your personal account, the users need to download the files directly from there, which necessitates the expenditure of data for every download.
Now picture this:
You have millions of followers, and everyone is downloading files from your account.
It eats up massive bandwidth since your account is using up the bulk of the allotted data for your website host. Coming from a single account, it might just be too much data transfer to handle for your host.
That's why leaving it to dedicated website hosts to take care of this for you is a great option.
3. You Save Money on Storage.
Deciding to host your podcast files yourself can be costly. For example, to host a one-hour audio podcast three times per week, you need around 200MB of storage space. And publishing a video podcast once every week at an estimated 500MB per episode, you'll need 2 GB space every month.
That said, podcast hosts take care of cloud storage for you, which comes with a lot of advantages.
However, if you've chosen a host that doesn't provide unlimited bandwidth, and your audience continues to grow, you'll either need to upgrade your plan or pay the added fees.
Your storage needs typically always continue to grow with your audience and the number of published episodes.
Luckily, podcast hosting sites come with fixed pricing so you already know how much you'll spend based on your storage requirements.
These plans all come with reasonable prices compared to your monetization potential, and storage is an important factor.
4. Faster Speed.
Arguably, an essential aspect of the need for podcast web hosting is ensuring and providing speed.
How long do you tend to wait for a Dailymotion video to run? 1 minute? 2 minutes? I'd give it only 30 seconds to start playing. If it doesn't start, I simply leave the video.
The same is true for podcasts. Too much buffering or low speeds won't keep users captivated for long. Sooner or later, they'll move on to a competitor's podcast.
When you host podcasts on your own website, speed becomes an issue. There's only so much speed that an average web host can provide. When more listeners start to download your podcast, web hosts have no option but to use data throttling.
As a result, users who want to download your podcast will struggle to do so.
Thankfully, with a fully dedicated host for your podcasts, you seldom run into these snags. Podcast hosting sites give unlimited access to your podcasts, as there's no conflict regarding bandwidth or speed.
5. Robust Analytics.
It goes without saying, the right analytics tool can help you generate actionable insights and make better decisions.
Before planning out your podcasting schedule, you should determine how your podcasts are performing.
This is where podcast hosting analytics come into the picture.
Most of these platforms come with an in-built data analytics tool that can help you track the number of downloads per episode, how long listeners are staying engaged, and where they are located.
This insightful data helps you make quick decisions on the types of content and show formats that your audience enjoys most.
6. Additional Security.
Cyber-attacks are a severe problem today.
And while running a podcast, you simply cannot afford to manage your own security. Hosting a podcast on your own server requires you to have a state-of-the-art security system in place, replete with security measures like SSL certificates and firewalls.
On top of that, you need to regularly update and test their functionality and perform daily back-ups.
Podcast hosting sites, on the other hand, come in-built with all the security measures that you need. The tools save and back-up your files and take care of security for you.
How Do I Choose from the Best Podcast Hosting Sites?
Twelve million people listened to a podcast for the first time within the last year. To tap into this growing market and pick the best option, you have to consider some different questions.
What is the right amount of storage?
How much audio storage and content will you be uploading per month?
Do you need a new WordPress site or align each episode with a blog post?
Can you work with video podcasts or any video format?
What kinds of analytics would you like to view?
Is it easy to dynamically add advertisements and sponsorships throughout your podcast episodes?
Finally, how much do you want to spend on hosting services?
These are just a few of the questions you'll have to answer when choosing from the best. Consider these questions before finalizing your podcast episode's cadence and length.
For example, if you're running a weekly one-hour podcast, you'll need less storage than if you're running a half-hour show five days a week. However, don't let prices limit your show's options.
Here are some tips for choosing the best podcast website:
1. Know how many hours of monthly audio hosting you need per month.
Many podcast hosts only give you two hours of upload time per month, while others provide unlimited uploads.
2. Look into server reliability, bandwidth options, and uptime guarantees.
Look into upgrade options if scalability is essential. With premium plans, you can get access to unlimited storage, upload times, and monthly downloads.
3. Research signup prices vs. renewal prices, as they may be different.
You can also save money by paying annually vs. monthly, so do your homework.
Dive into a free trial to test the product's ease of use.
4. Make sure the host has a lot of essential features.
Look for things like no-fault overages, media validation, FTP uploading, and ID3 tagging.
7 Useful Steps to Start a Podcast.
Ever since the revolutionary release of the iPod in 2001, podcasts have been growing in popularity. And there seems to be no sign of stopping.
According to a report by Nielsen, 50% of US households are podcast fans. That's more than 60 million homes in the United States alone.
Where do they listen to these podcasts? Everywhere, apparently.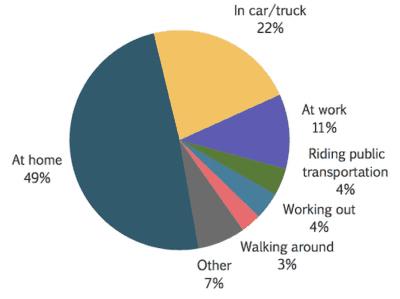 With the popularity of podcasts at an all-time high, there hasn't been a better time to start your first podcast.
If you want to should you go about starting your first podcast, you need to follow a series of steps, including:
Choose a name for your podcast
Select a cover image
Introductory music
Get the necessary equipment
Create an environment and process
Record your first podcast and release
Promote and market your podcast
1. Choose a Name For Your Podcast.
There are three significant naming conventions that you could follow to name your podcast:
Creative – Ex: 'Podfast'
Descriptive – Ex: 'Start Your Blog Like a Startup'
Personal – Ex: 'The Adam Enfroy Show,' #AskAdamEnfroy
The naming convention you choose to follow should depend on your own preference. For instance, if you want to highlight your core topic, a descriptive name would give a fair idea.
Adding a tag line to the name is also something that accentuates your brand value. For example, 'Podfast' – simply the fastest.
If this doesn't work, you could try out some other ways to name your podcast.
2. Add a Cover Photo.
An appropriate cover photo helps create an image of your brand in the mind of the consumer. It has to be communicative, catchy and should uphold the niche of the podcast.
The good news is that a lot of the covert art specifications are taken care of by podcasting hosting platforms. You can also customize them to align with your expectations.
3. Add Your Intro Music.
Begin your podcast with a theme song to captivate the interest of the listeners. Opening theme music is also an element of the broader branding of your podcast, and listeners will identify your channel right away based on that music.
Typically, it should be about 5-10 seconds long.
All you need to do is create something unique that aligns with your niche so that your listeners begin to associate it solely with your brand.
4. Get The Necessary Equipment.
For a seamless podcasting experience, you need the best equipment.
The best part is that you don't need to shell out a massive budget to produce excellent quality podcasts.
The simple basic are:
Good microphone
Recording software
A good podcasting host
Some of the great microphones in the market are Blue Encore and Audio Technica.
You can also check out what some popular podcasters are using. For instance, here's a list of equipment Gary Vaynerchuk uses for his podcast.
It is easier to produce engaging podcasts if you're working with the right set of equipment.
5. Create Your Podcast Style.
You've got to create the perfect environment to attract listeners. This is where you need to get creative and market your podcast to reach your target audience.
For starters, you need an appealing welcome message to start off the monologue on a positive note. You'll basically talk about who you are and what are you aiming to do in your podcast.
Once that's done, now you've got to get ready with the content you need for each episode :
The topic
Outline of the episode
Key takeaways
Whether it's banter, pre-planned segments, or an interview, devising a proper structure for your podcast is essential.
Planning ahead before you start makes for a better performance, which naturally rubs off on your podcast delivery and other people in the room.
6. Record and Release.
How you want to record your podcasts depends entirely upon you. Some podcasters record more than 5-10 podcasts in one go, while some believe in producing one podcast at a time.
I'd suggest using this format for your podcast editing:
Teaser + Intro + Podcast + Advertisement + CTA + Podcast + Subscription Reminder + Outro
Now, to be able to reach the right audience, you need to upload your podcasts on popular platforms like iTunes, Soundcloud, Google Podcasts, and more.
Even better, if you already have a YouTube channel or a blog page, you can share your podcast on those channels as well. That way, you can also invite your regular viewers and readers to check out your new podcast.
7. Promotion and Marketing.
It's challenging to record a large number of streams immediately after you start. Using social media sites like Instagram, Facebook, and Twitter, and running ad campaigns could be an excellent way to promote your podcasts in the market.
You can connect with industry leaders, and tie up with radio stations to spread the word at a reasonably lower cost.
You can also invite celebrities or industry experts with considerable followings to your show. That's a great way to reach out to new listeners.
Podcast Hosting FAQ.
Is starting a podcast worth it?
Starting a podcast is worth it if you have all of the necessary and unique skills for podcasting. You need to be a great speaker, entertainer, self-promoter, digital marketer, and be willing to spend a lot of time marketing your podcast and building your audience.
If you started a podcast solely to make money online, there are some easier alternatives out there like learning how to start a blog. However, you can be successful but the odds are stacked against you.
The vast majority of podcasts aren't successful because podcasters don't have the digital marketing knowledge or relationship-building skills to make them successful.
Where can I host a podcast?
To host a podcast, there are plenty of services to choose from. You need to host your podcast with one of the best podcast hosting companies. Here are my top picks:
1. Buzzsprout.
2. Spreaker
3. Transistor.
4. PodBean.
5. Simplecast.
6. Captivate.
Where can I host a podcast for free?
Yes, you can host a podcast for free. However, free services come with a lot of limitations compared to their paid alternatives. When you start a podcast and need to host your audio files, you should pay for a high-quality option rather than a free, less feature-rich alternative.
Do I need podcast hosting?
Yes, you need podcast hosting to store your files and publish them on platforms like iTunes and Stitcher. Unfortunately, you can't just record an audio file and upload it directly to iTunes or Stitcher – you need a podcast hosting company to manage that for you.
Can you make money podcasting?
Yes, you can make money with a podcast but you need to build an audience first. Once you build an audience, you can't make money from sponsorships, affiliate marketing, and product sales.
The main way to make money with a podcast is to sell sponsorships (ad slots) to companies that want to be mentioned on your show. You can sell these slots in increments of 5, 10, 20, or even a full year to make sure your slots are filled.
Another great way to make money is to partake in affiliate programs. By mentioning a webpage to visit over the air and linking to it in the show notes, you can drive sales for other companies and make a commission.
How often should you publish a podcast?
The frequency of your publishing schedule should be dictated by your niche, audience, and the length of each episode. You need to provide the best possible experience for your listeners and make sure they keep coming back for more.
For example, if your episodes are only 15 minutes long, you may want to publish a daily podcast. If your episodes are longer (60 minutes or more), you can get away with a weekly podcast. Ultimately, it depends on your industry, topics, and audience base.