12 Best SEM Tools (Free and Paid) for 2021
Looking for the best tools to build profitable SEM campaigns?
An SEM toolset will help you eliminate the guesswork that often comes with planning PPC campaigns, and in the process help reduce wasted ad spend and more quickly turn a positive ROI.
But there are lots of tools on the market. How do you choose the best one for your business or clients?
In this article, I'll share the SEM tools I use to run profitable campaigns for businesses across a wide range of industries.
The goal here is not to list every SEM tool under the sun.
That wouldn't help at all!
Instead, I'll share a battle-tested shortlist of tools that'll let you navigate the five core areas of a successful SEM campaign – competitors, keywords, ads, landing pages, and reports.
The best SEM tools:
What Are SEM Tools, Exactly?
The term "SEM" is often used as an umbrella term for all things SEO and PPC.
But that's not correct.
SEM refers solely to paid search marketing.
SEM stands for Search Engine Marketing and encompasses all the activities associated with running paid search campaigns, such as targeting high-value keywords, optimizing ad copy, display creatives and landing pages, and monitoring key metrics.
SEM tools help you manage and optimize all of these moving pieces.
On the other hand, SEO stands for Search Engine Optimization and includes all the actions taken to increase search engine rankings, such as running technical audits, targeting high-intent keywords, creating quality content, and building backlinks.
If you're looking for a list of the best SEO tools, check out this post instead to see the top-rated tools from hundreds of SEO professionals:
12 SEM Tools to Add to Your Arsenal in 2020
A solid SEM toolset should help you plan and manage the five core areas of a profitable campaign and eliminate any guesswork.
Competitive research: Discover where your competitors are showing ads (Search, Display, YouTube, PLAs, etc.) and if their ad spend is increasing over time.
Keyword research: Check which keywords are most valuable, their volume and CPC data, and how long your competitors have been bidding on them.
Ad copy: Discover how competitors are winning the click and positioning themselves with ad messaging.
Landing pages: Investigate how competitors are converting traffic from paid ads.
Reporting: Quickly highlight where there's wasted spend, and opportunities to improve, so you can see a greater ROI.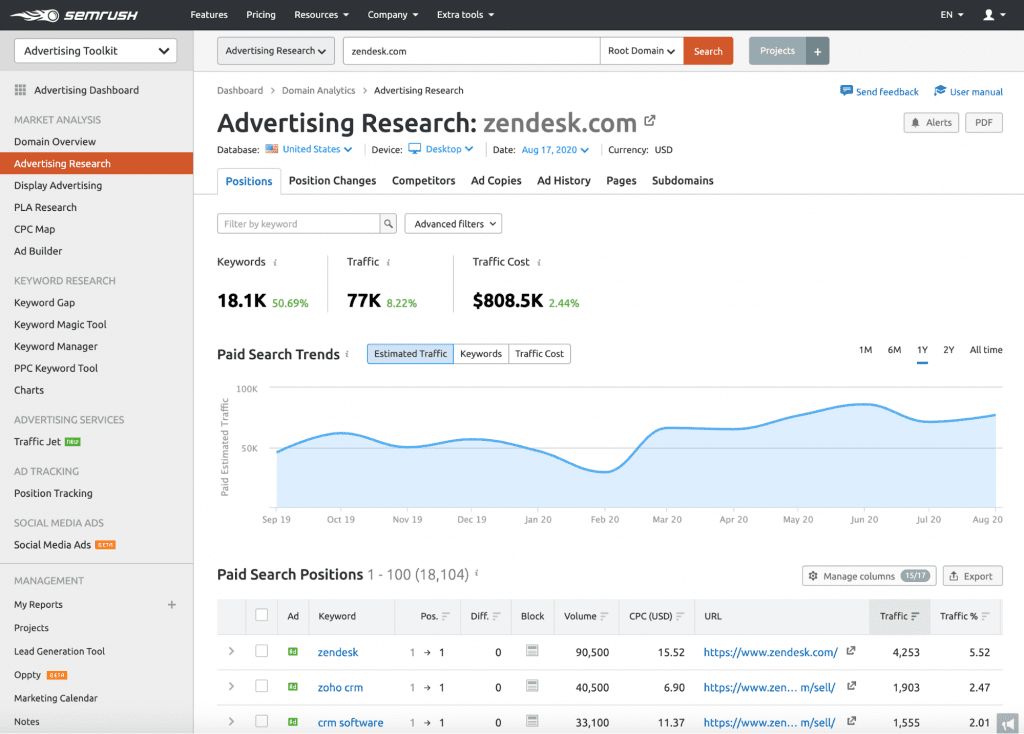 The SEMrush Advertising Toolkit provides all the features to plan profitable SEM campaigns from start to finish.
It pretty much combines the functionality of all the other tools below into a single platform. On top of that, you also get access to several other toolkits, including SEO, Traffic Analytics and Content Marketing.
But it's not a dedicated PPC management tool like some of the other tools on this list as you can't use it to manage bids or exclude campaign keywords.
That said, it does provide all the research, analysis, and planning capabilities you need to build profitable SEM campaigns.
As a result, it is my SEM tool of choice.
Top SEM Use Cases
Here are five ways to use SEMrush for your SEM campaigns:
1. Analyze competitor keywords and spend over time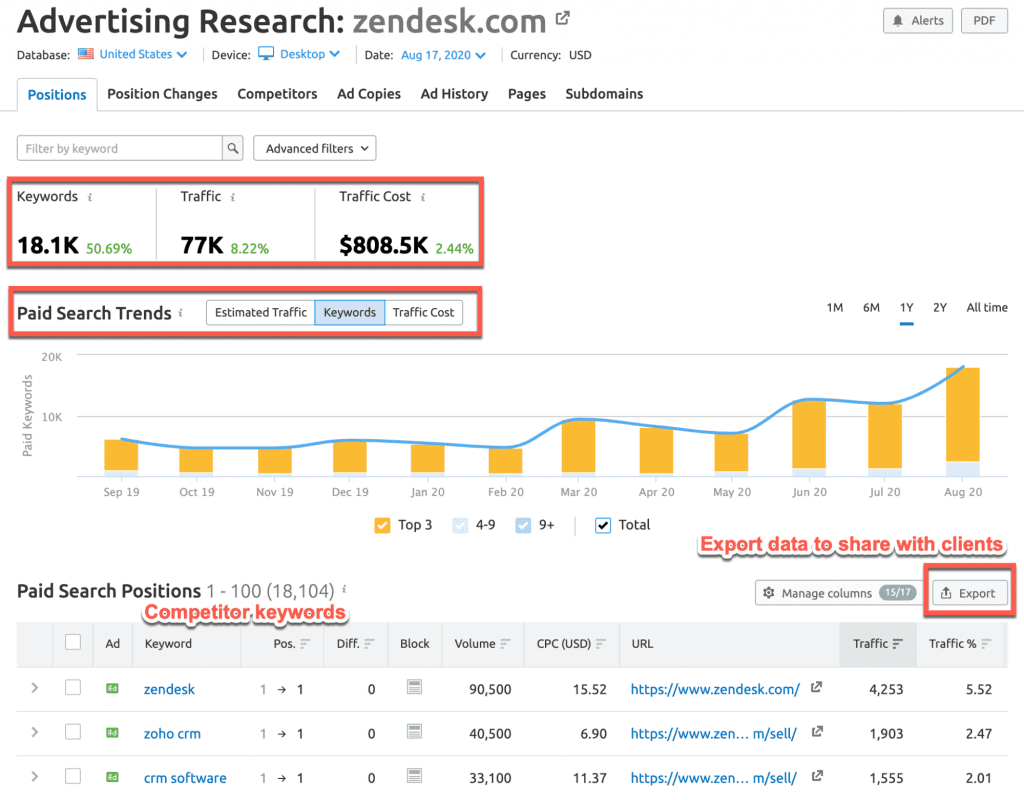 The Advertising Research Positions report gives you an overview of all the keywords your competitors are bidding on and tracks if they are increasing or decreasing spend over time.
At the top of the page, you can see the headline metrics for keywords, traffic, and traffic cost. Below these, you have the corresponding trend graphs, which you can export and share with clients to help sell the need for investment in a PPC strategy.
2. Find high-value keyword gaps
The Keyword Gap tool lets you compare the keywords of up to five competitors.
The report quickly identifies the high-value keywords your top competitors are bidding on, but you're missing.
You can run this report for both paid search and PLA (Product Listing Ad) keywords.
3. Find top-performing competitor ad copy
The Ad History report lets you check when and how often your competitors bid on each keyword.
You can also check the ad copy that's used for different keywords, and see how long the ads have been running.
If you notice that your competitors have bid on a particular keyword over a long period, it's a good indicator that it could be a profitable keyword.
4. See how competitors convert paid traffic
The Ad Copies report shows the copy and every keyword used for each paid ad. But you can also click through and see the landing page URL for every keyword competitors are targeting and check how they are converting paid traffic.
5. See which display creatives are used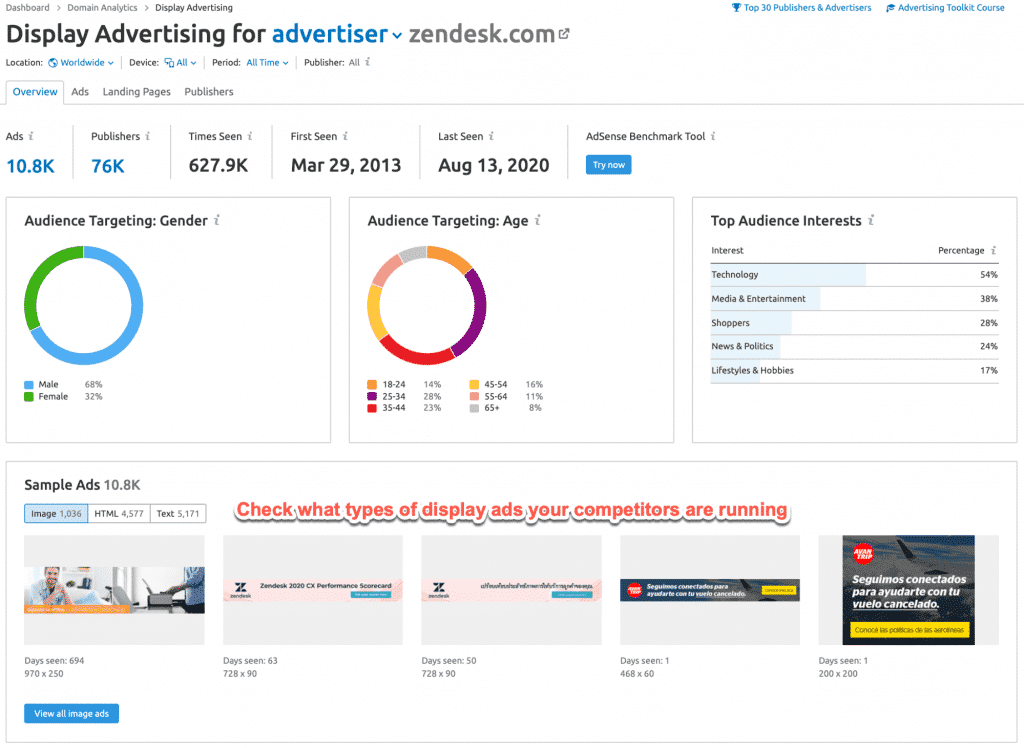 The Display Advertising overview report gives you a snapshot of your competitor's display campaign activity.
You can see which display ad types – text, image, or HTML – are running, and which competitors are publishing the ads. These insights can inform your creatives and ad placement strategy, and is one of the features that makes it a top SpyFu alternative.
Pricing: SEMrush has three subscription plans, starting from $99.95/month. You can access exclusive trials for Pro and Guru plans here.
SEM Tool #2: Google Ads Editor
The Google Ads Editor is a free, downloadable desktop application that lets you make bulk changes to your ads quickly and easily, rather than one-by-one in the online Google Ads dashboard.
If you work on large campaigns for different clients, then the Ads Editor will save you loads of time as you can create, edit, and preview multiple ads in draft mode before they go live.
You can also import ad copy templates and keywords directly from SEMrush into the editor.
The Google Ads Editor also allows you to track important campaign metrics, like click-through rate, cost, position, and conversion information. But it does lack some of the automation options and improvement suggestions in other SEM tools.
Pricing: Free to Google Ads advertisers.
SEM Tool #3: Optmyzr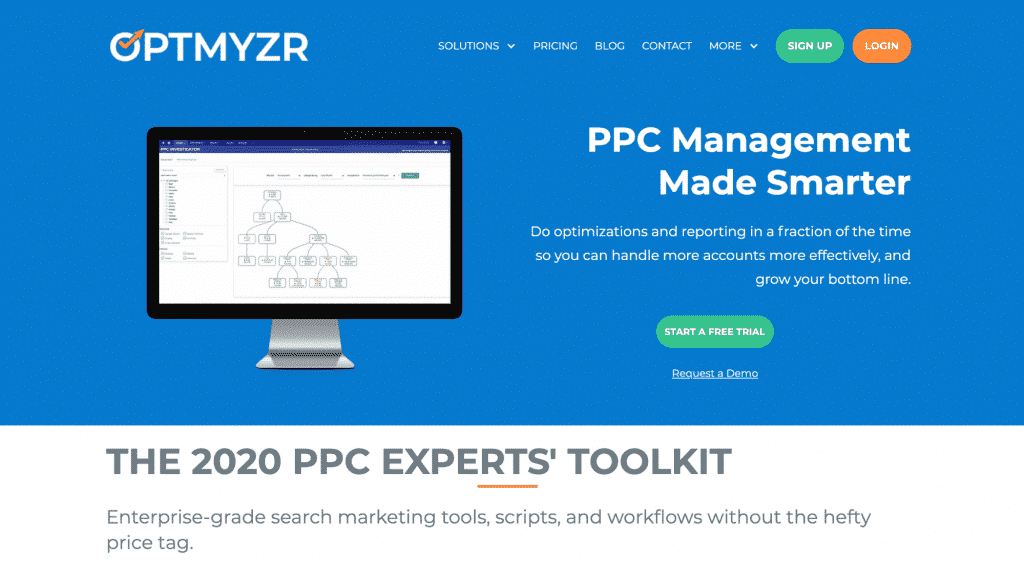 Optmyzr is one of the best SEM tools on the market for agencies managing multiple small and medium-sized accounts. It allows you to launch, track, and manage PPC campaigns on different platforms, like Google and Bing.
As a dedicated management tool, it provides valuable time-saving efficiencies as it offers more advanced tools for creating and managing campaigns in bulk.
For example, its 1-click optimization tool can upload and generate campaigns in bulk from data sources like spreadsheets or third-party integrations.
Optmyzr also automates tedious and repetitive manual tasks, like trying to find negative keywords and sorting out which ads to pause.
If it's in your budget, then Optmyzr is one of the best dedicated SEM campaign management tools on the market, although it has to be said, it lacks the in-depth research and analysis capabilities of SEMrush.
Pricing: Optmyzer has a range of subscription plans, starting from $249/month.
SEM Tool #4: Unbounce
You can target the right keywords, and produce the best ad copy on the planet, but if you don't have optimized landing pages to convert that traffic, it will all be for nothing.
Unbounce allows you to create high-converting landing pages in minutes, with zero coding. Plus, you can easily set up and track A/B tests so that you can continually optimize your landing pages.
Top Use Cases
Quickly build responsive, conversion-optimized landing pages with the drag-and-drop page builder.
Choose from hundreds of pre-built templates, copy and paste between pages, or import directly through the Themeforest integration.
Clone and edit entire landing pages that have already proven successful.
Publish landing pages, popups, and sticky bars to WordPress sites with one click.
Run A/B split tests to see how different landing page variants resonate with visitors.
Integrate seamlessly with hundreds of third-party tools such as HubSpot and Salesforce.
Use the script manager to easily configure and deploy analytics, goal tracking, and retargeting scripts across every page with a single click.
Manage multiple clients, users, or campaigns from a single account with custom permission levels to access to different accounts and domains.
Pricing: Unbounce has a range of subscription plans that scale as you grow, starting from $80/month.
Start your free 14-day trial of Unbounce
SEM Tool #5: Bing Ads Editor
If you're running ads on the Bing search engine, then the Bing Ads Editor is a must-have tool for managing your campaigns.
Like the Google Ads Editor, the Bing Ads Editor is a free, downloadable desktop application that lets you work online or offline. So you can make your changes or additions offline, and then upload them to sync the revisions.
You can create campaigns, make edits in bulk, and manage thousands of keywords. Plus, you can also manage bids, budgets, and ad copy.
Pricing: Free.
SEM Tool #6: Google Keyword Planner
You can't have a list of SEM tools without calling out the Google Keyword Planner.
While it has gotten a lot of flack in recent years due to the inaccessibility of search volume data for accounts not running ads, it's still a handy tool for generating keyword ideas and getting volume and CPC estimates right down to the city, state, and country levels.
Once you've found the keywords you want, you can add them to your advertising plan.
It's a useful tool if you're running on a small budget, or you're a local business.
Pricing: Free.
SEM Tool #7: Moat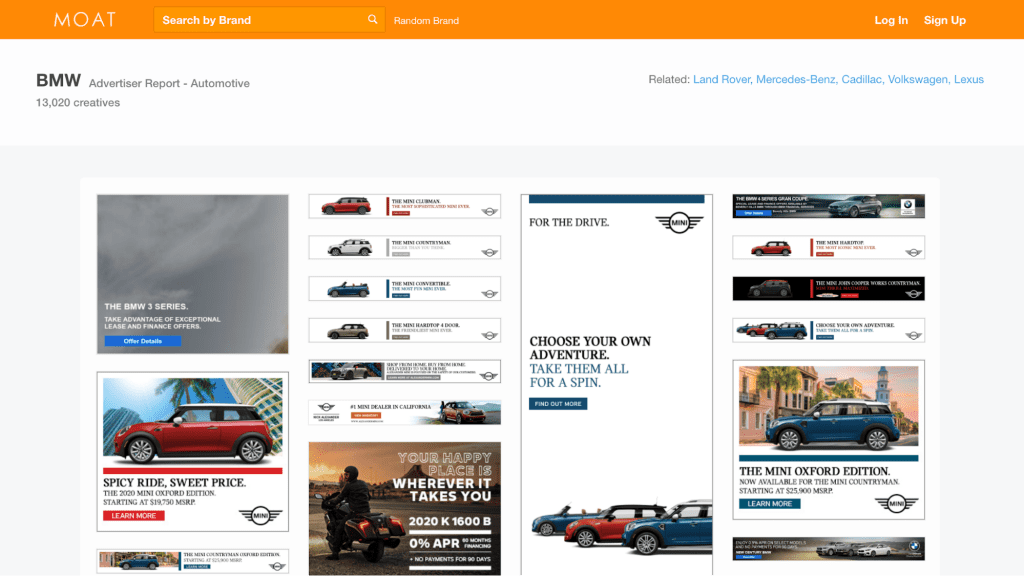 Moat is a great SEM tool for display ad inspiration.
If you're out of creative ideas or not sure what copy or creative to use on your display ads, then why not check out what your competitors used.
Similar to SEMrush, you'll simply enter a brand name and check Moat's extensive library of display ads. You can also check the image dimensions and the active run dates for each ad as well.
Pricing: It's free to browse the display ads on Moat.
SEM Tool #8: Supermetrics
Supermetrics is the easiest way to move your SEM campaign data from multiple sources, such as Google Ads, Bing, and other marketing platforms, into a single reporting dashboard.
Supermetrics can pull your data into Google Sheets, Data Studio, Excel, and BigQuery. Or, you can use their API to fetch your advertising data into more advanced data visualization tools like Tableau, Qlik, and Power BI.
From there, you can either use the pre-built templates or segment the data to create custom charts and graphs.
Pricing: Starts at $39/month for Data Studio and $69/month for Google Sheets. Start your free 14-day trial here.
SEM Tool #9: Snappa
Although it's not specifically an SEM tool, Snappa can be enormously valuable for companies that want to create professional-looking display ads but don't have an in-house graphic designer, or the budget to hire one.
As Sujan Patel says: "Snappa is the best tool I've used to create images for blog posts and Facebook ads. In 5 minutes, I can do what used to take me hours to do or pay designers to do."
You can choose from hundreds of pre-built design templates in the designated dimensions for display ads, social media, blogs, emails, and infographics.
Once you've used a tool like SEMrush or Moat to uncover creative display ideas, you can mock up your own versions quickly with Snappa and upload them into your Google Ads account.
"This tool has saved me thousands of dollars over the years!"
Pricing: Snappa starts with a free plan, and then $10/month for the Pro plan.
Get started here for free!
SEM Tool #10: AdWords Wrapper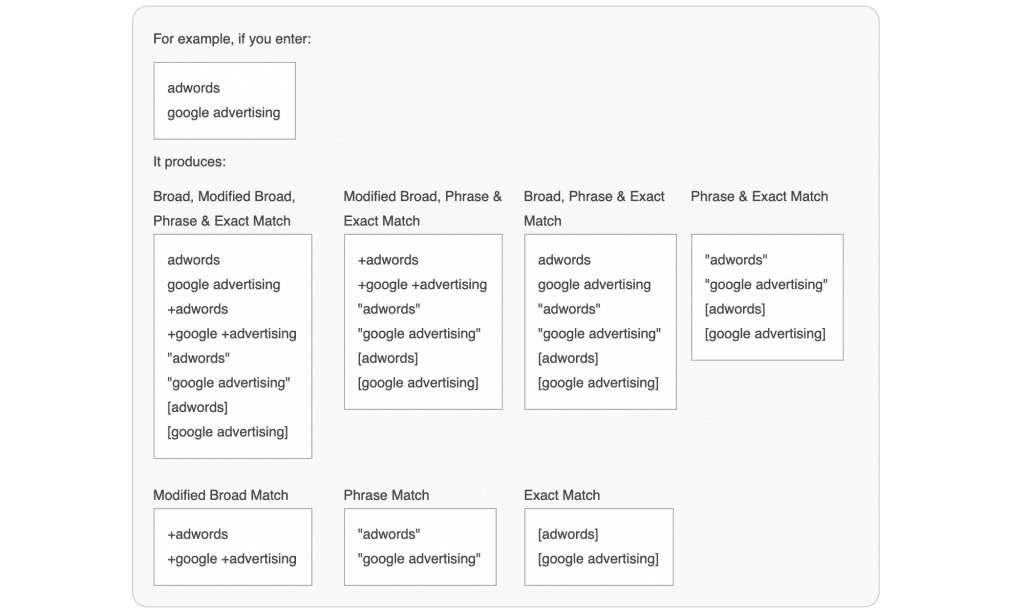 AdWords Wrapper can be a HUGE time saver when you're uploading multiple keywords across campaigns and ad groups in different match types.
Imagine if you have a long list of keywords ready to add to your campaign, but you want to add them as both Exact Match and Modified Broad Match, then it would take ages doing it manually.
But with AdWords Wrapper, you can enter your list of keywords once and get seven separate lists:
Broad, Modified Broad, Phrase, and Exact Match.
Modified Broad, Phrase, and Exact Match.
Broad, Phrase, and Exact Match.
Phrase and Exact Match.
Modified Broad Match.
Phrase Match only.
Exact Match only.
Duplicates are automatically removed, and keywords are sorted in character code order. Plus, there are options to change to lowercase, remove bids, and remove URLs.
Pricing: AdWords Wrapper is free
SEM Tool #11: Call Tracking Metrics
Call Tracking Metrics lets you identify which ad campaigns drive results.
Every call, text, chat, and form that you receive with a CallTrackingMetrics (CTM) tracking number can be linked to the PPC ad campaign that inspired it, so you can see which ads are performing, and which ones aren't. (You can also analyze calls from other types of marketing campaigns.)
CTM lets you know:
The contacts name, phone number, address, and company (where applicable).
The advertisement and channel that led to the call.
The keywords the contact searched.
The pages they viewed on your website.
Their previous contact history.
Armed with this data, you can track the campaign, ad group, and keyword in Google Ads and Analytics, and analyze the performance.
Pricing: Call Tracking Metrics starts at $39/month for the Business plan.
Get started here for free!
SEM Tool #12: PPC Protect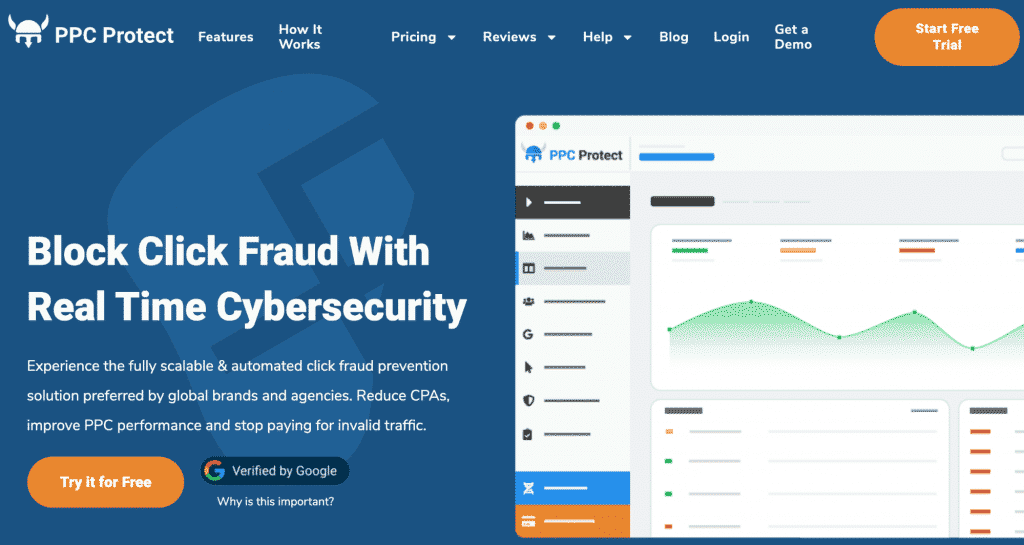 PPC Protect is different from the other tools on this list. It doesn't help with keyword research and ad optimization. But it does help maximize your PPC budget.
Thanks to its massive database of VPN, proxy, and malicious IP addresses, it can protect your PPC campaign budget by blocking potential robots from accessing and clicking your ads, so your budget is not wasted on useless clicks.
Pricing:  PPC Protect starts at $40/month for the Pro plan.
Get started here for free!
Which Tool(s) Are You Going to Add to Your SEM Arsenal?
So there you have it – 12 field-tested SEM tools to help with comprehensive or focused SEM tasks.
A tool like SEMrush is going to be extremely valuable researching competitors, analyzing keywords, scrutinizing ad copy, and surveying landing pages, whereas a tool like Optmyzr will help with your overall SEM management.
Other tools like AdWords Wrapper, Snappa, and PPC Protect will save you time and money so that you can run your SEM campaigns more efficiently.
Let me know below which tools you're going to add to your SEM arsenal.