12 Best Affiliate Link Cloaking WordPress Plugins in 2021
Affiliate marketing is one of the best ways of making money on the internet.
However, to a lot of visitors, long and cryptic affiliate links look suspicious.
But there's an easy solution that can both improve click-through rates (CTRs) and ensure that hackers don't hijack your commissions:
Link cloaking.
There are several WordPress plugins that you can use to replace (or "cloak") your affiliate links with shorter, safer, trustworthy-looking links.
But good affiliate link cloaking plugins can be hard to find.
Don't worry – I've got you covered.
Here's a hand-curated list of the best affiliate link cloaking WordPress plugins in the industry.
Best Affiliate Link Cloaking WordPress Plugins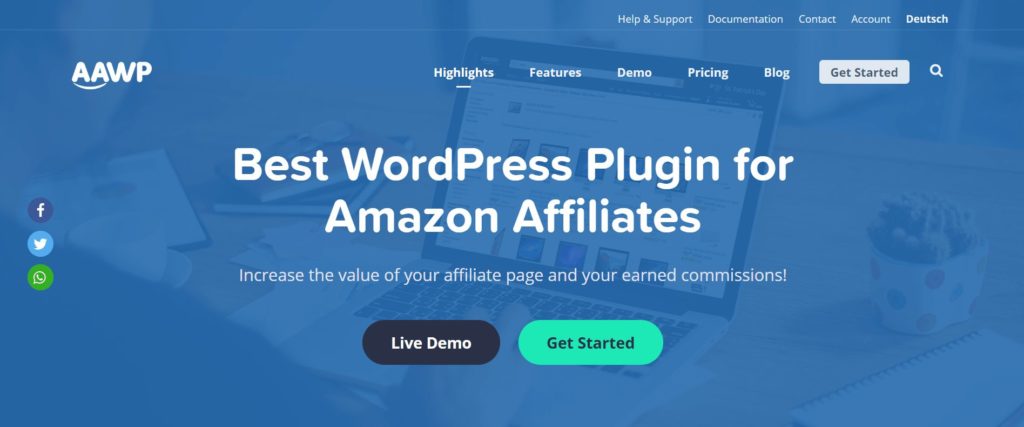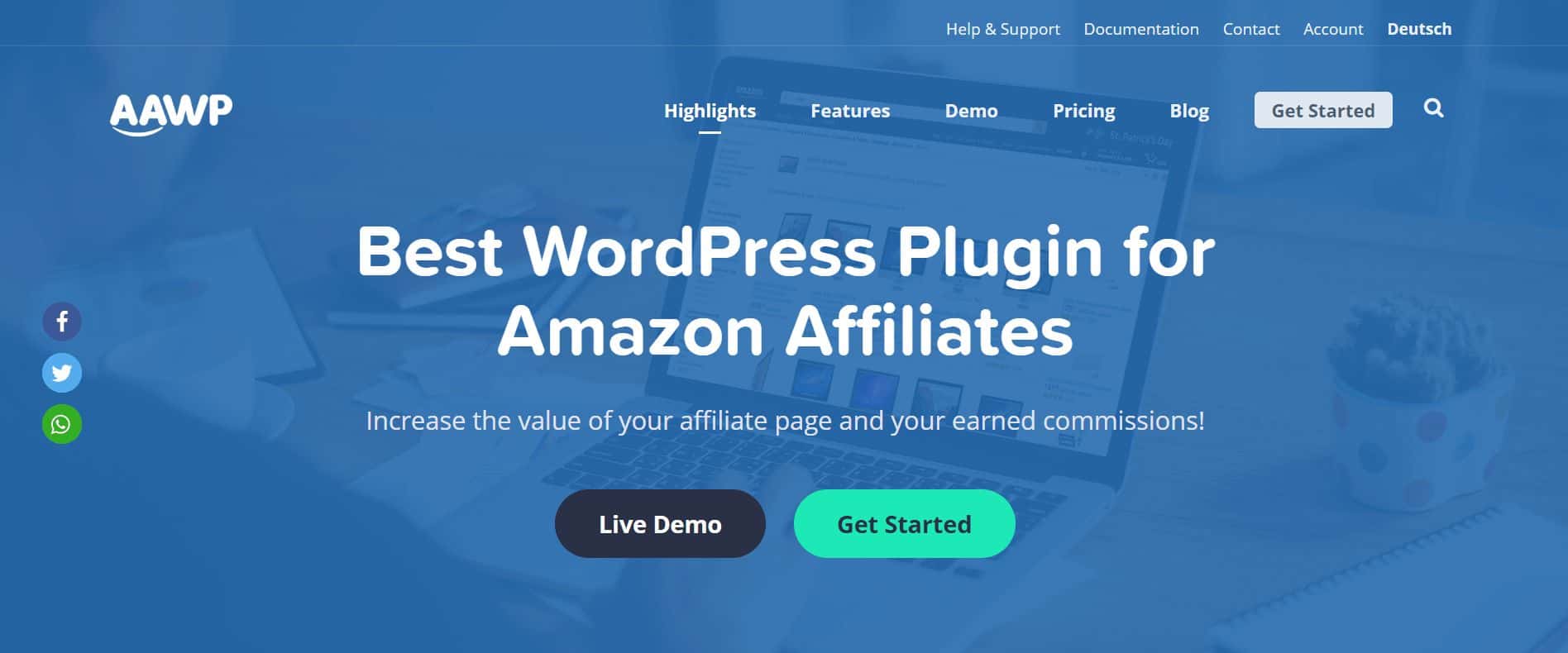 AAWP is one of the most-recommended affiliate marketing plugins for WordPress, but it rarely shows up on "best affiliate link cloaking WordPress plugins" listicles.
But it's not hard to see why – the plugin is multi-faceted, and its features list brushes over its excellent URL cloaking functionality.
The premium plugin boasts polished geotargeting and text link customization features, which already makes it stand out from other plugins.
But there's a lot more to the plugin.
It is specially designed for Amazon affiliates and enables them to add comparison tables, product boxes, bestseller lists, data fields, and a lot more to help market products.
Click tracking and event tracking features are built into the plugin, and its caching features speed up redirects.
The customizable product display templates, coupled with the range of conversion-boosting features, make it worth every penny.
If you're an Amazon affiliate marketer, the host of marketing and cloaking tools offered make AAWP a must-have.
No free version; plans start at €39/year.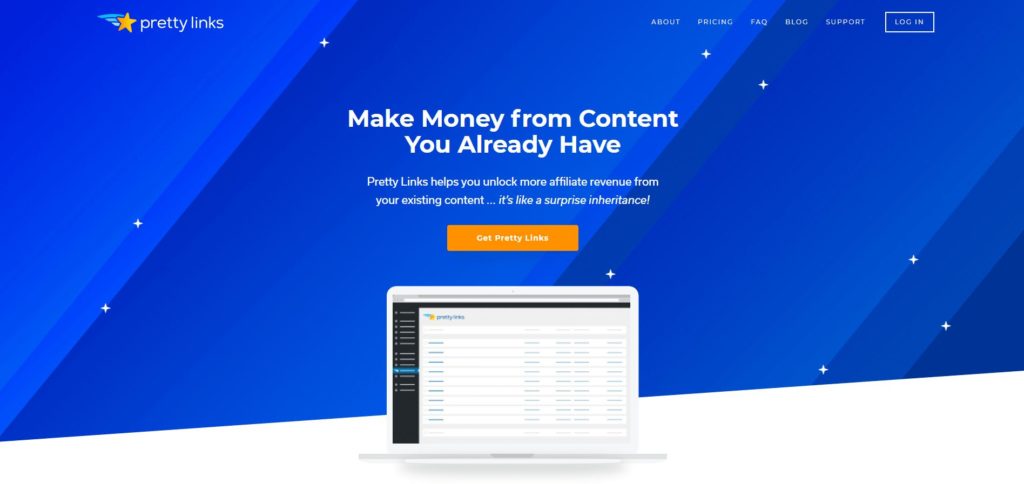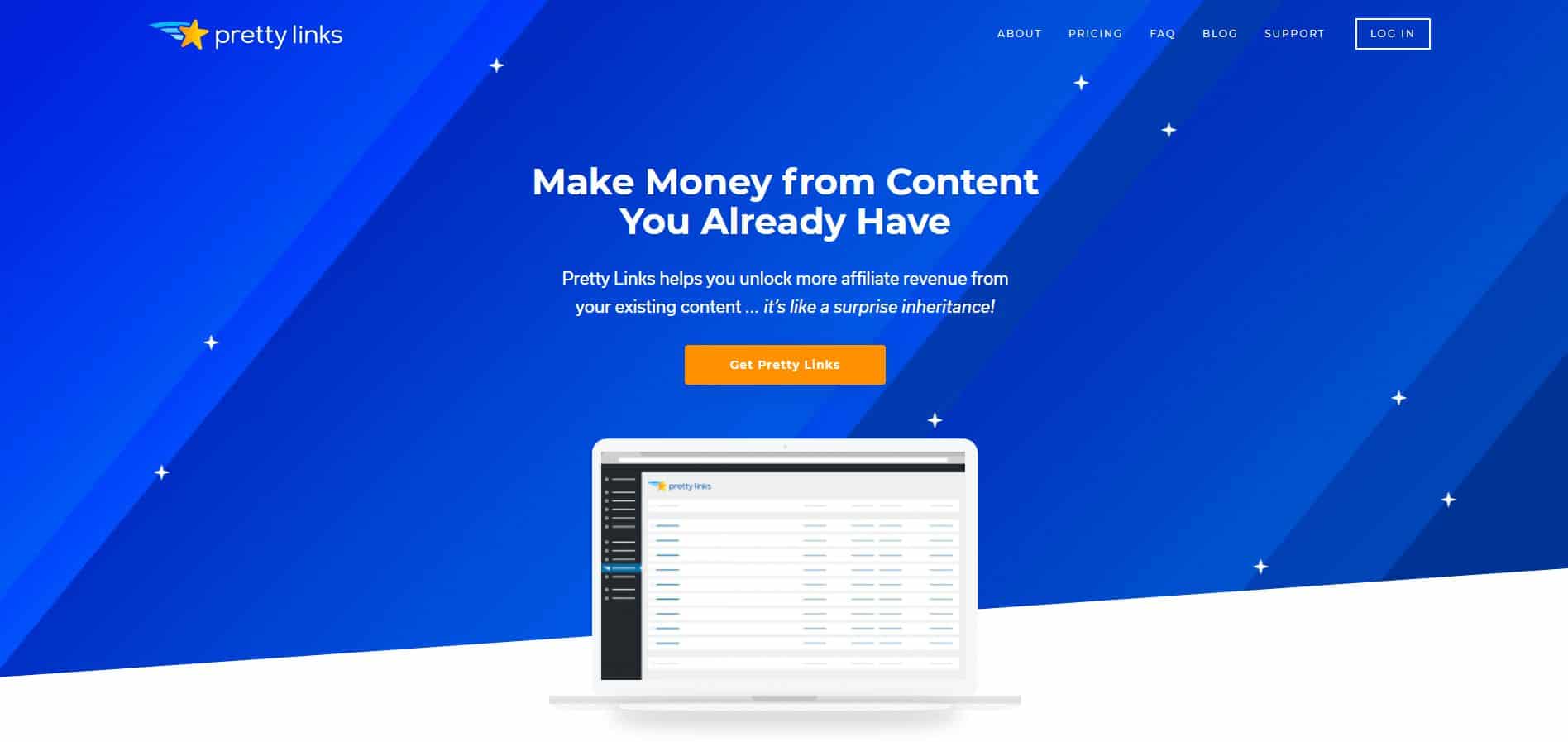 Once you build a website that drives traffic consistently, managing content and links becomes a bigger problem than curating content and finding products.
Pretty Links is another super popular plugin that reduces the workload that comes with running a website – while also helping you make sure that you don't leave any money on the table.
The plugin is easy to install and makes it simple for you to shrink, cloak, track, and share your links.
What I love about the plugin is that it gives you full control over how your links look and how they redirect.
With this one plugin, you can set links to make traditional server-site redirects, which include 301, 302, and 307 redirects.
You can also generate links that make JavaScript-based and meta-refresh redirects.
The plugin has equally powerful reporting and analytics features when compared to ThirstyAffiliates. It also has a similar automatic affiliate link addition feature.
But some things set Pretty Links apart.
It can automatically create short links for all of your pages and posts, and you can set it to tweet a custom message whenever you publish a post automatically.
I don't want to add to the Pretty Links vs ThirstyAffiliates debate, but it is clear that Pretty Links is better suited for bloggers that focus more on publishing content than managing it.
It's difficult to pick a winner in the ThristyAffiliates vs Pretty Links matchup, but the bottom line is, Pretty Links is a feature-rich, flexible tool that makes link cloaking and management a breeze.
If you like to focus on publishing content more than managing it, Pretty Links is the best affiliate link cloaking WordPress plugin for you.
Free version "Pretty Links Lite" available; Pro version starts at $49/year.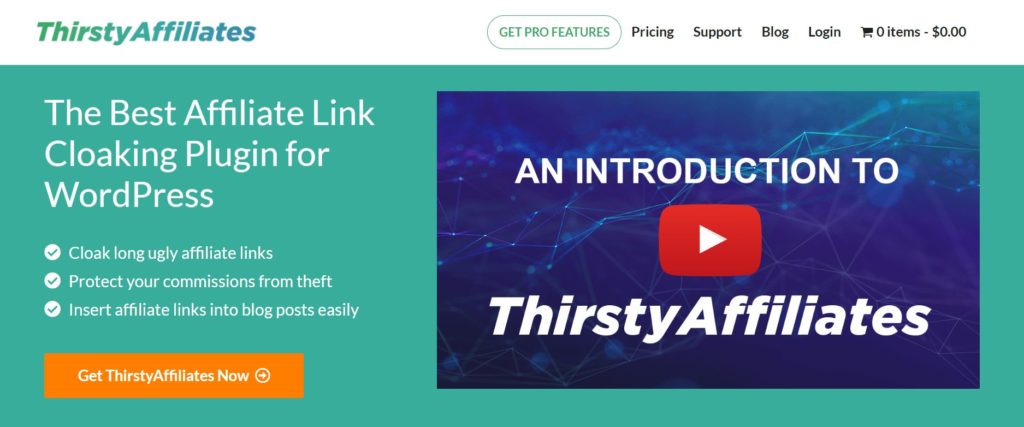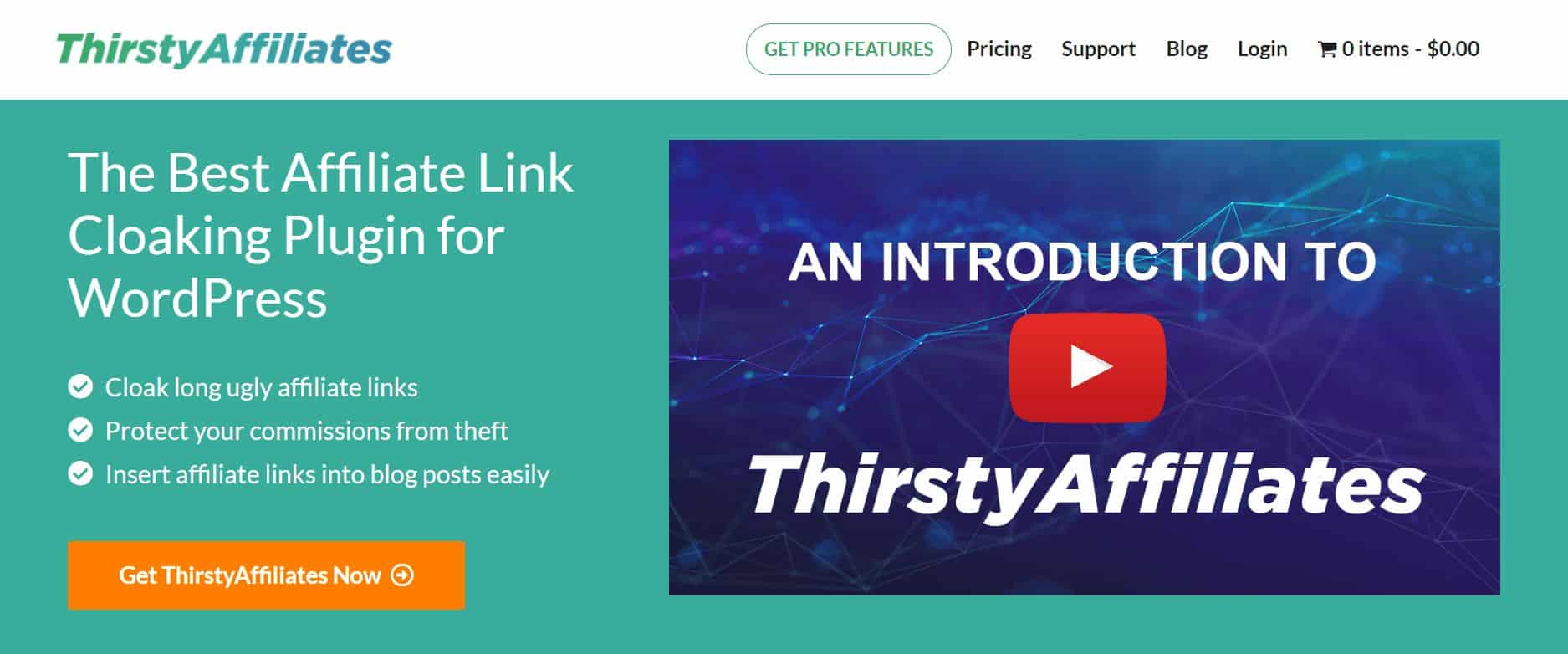 ThirstyAffiliates is one of the most trusted affiliate cloaking plugins in the industry. Over 443,000 WordPress site owners use it to manage their affiliate links.
In addition to making cloaking long affiliate links easy, the plugin also enables you to add affiliate links to your website automatically.
Here's how:
The Autolink Keywords feature makes sitewide addition of affiliate links as simple as entering the keyword and the link.
You can also (optionally) uncloak links for compliance with your affiliate network's terms of service.
What I love about the plugin is that it takes care of hurdles that you will face down the road – specifically link-fixing. Broken links are one of the biggest causes of reduced commission earnings.
ThirstyAffiliates' front-end link-fixing script helps you ensure that all of your links are always up-to-date.
The plugin also offers easy-to-understand chart- and table-reports that provide a ton of insightful statistics. You can also opt in to receiving regular admin email reports.
Other features like the automatic 404 checker, geolocation link generator, and third-party importing make it one of the best affiliate plugins available.
ThirstyAffiliates is rich with features that make adding, cloaking, and managing affiliate links easy. Coupled with its affordable pricing, getting it is a no-brainer.
Starts at $49/year with a 14-day refund guarantee.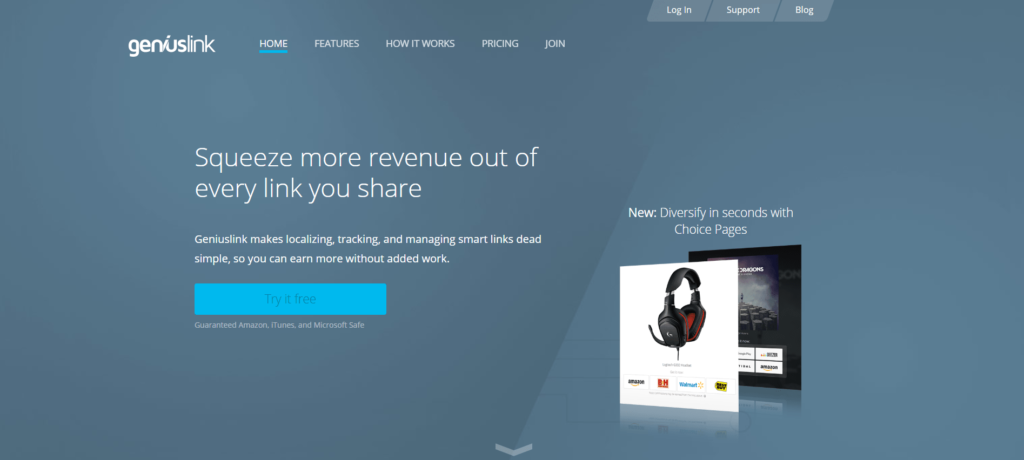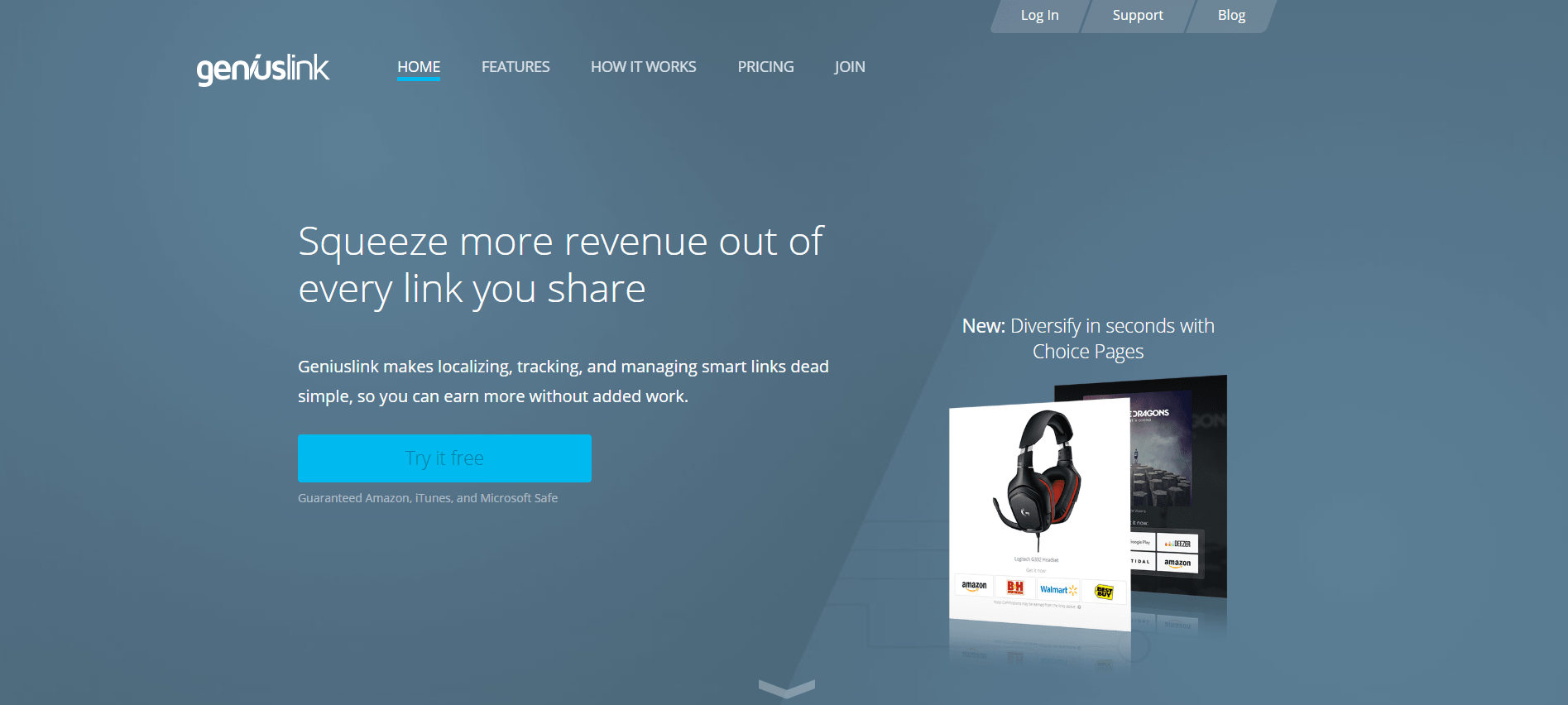 Geniuslink supports most major affiliate networks, and also works with affiliate aggregators. Network support will never be an issue.
But what impresses me most is the tool's auto-affiliation, auto-localization, and link health monitoring features.
Creating short links is easy, but Geniuslink also enables you to generate Choice Pages that let your visitors decide where they want to buy a product. Regardless of where they buy, though, you get paid.
It comes with a host of reporting features, and its retargeting and A/B testing features enable you to increase conversion rates without much hassle.
Marketers trust the tool because it can boost commission earnings by up to 200%. Getting it is a no brainer.
Plans start at $5 a month.


Thousands of Amazon affiliates trust Amazon Link Engine to cloak their links – and for good reason.
The plugin drastically cuts down on the work you need to do to cloak your links. When you install the plugin, all the Amazon affiliate links on your website are localized instantly.
When you add new links to your website, they are cloaked automatically – no special configuration required.
While the plugin is very useful for a free plugin, there are some setbacks.
You cannot earn international affiliate commissions, or track your links with the plugin – unless you make a Geniuslink account.
But there is a silver lining – the plugin boasts some of the industry's best reporting features.
You can measure the performance of affiliate links on your website across several metrics. You can find which product type and referrer are earning you the most commissions and also see the location and device you receive the most clicks from.
The best part?
You don't need to sign up for an Amazon Developer account or apply for Amazon's API to use the plugin.
Automating affiliate link cloaking has never been easier. You can just install Amazon Link Engine and never worry about cloaking again.
Free to use, but access to international commissions and reporting features limited to paying users.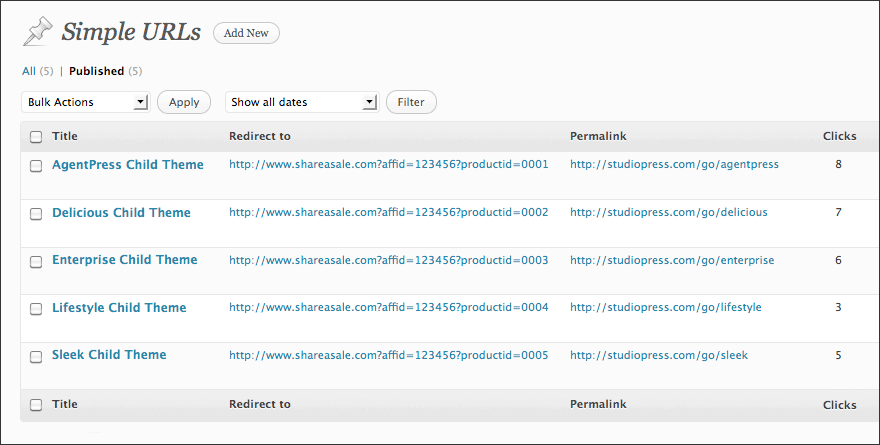 There are many different tasks involved in running an affiliate website, and sometimes, getting a plugin that doesn't require much configuration can be a blessing.
Simple URLs' ease of use is what makes it stand out.
Developer Nathan Rice has an eye for simple and useful tools – one of the reasons why his Genesis Framework is so popular.
While the plugin is technically a URL management system, it is very barebones. You can use it to create, manage, and track affiliate links (or any other outbound links) using custom post types and 301 redirects.
The plugin stores click-counts and avoids issues with permalink conflicts by ignoring page-based redirects in their entirety.
I like that the plugin enables you to customize URL structures with minimal tinkering, despite the plugin's barebones design.
What the plugin lacks in features it makes up in simplicity and ease of use, which is why I can recommend it to anybody looking to uncomplicated their link cloaking process.
If you're a beginner, or just want an uncomplicated link cloaking tool, Simple URLs is perfect for you.
Completely free on WordPress.org.
EasyAzon is similar to AAWP – in that, it is a multi-faceted suite and not a linear plugin. Like AAWP, EasyAzon is also designed for Amazon affiliates.
Installing it enables you to add affiliate links faster and cloak them with ease.
But what I like about the plugin is that it enables you to add image links, CTA link buttons, and product info blocks right from the WordPress post editor.
The Pro version of the plugin adds a host of useful features to the already impressive suite.
You get access to automated link cloaking features, product pop-ups, auto-link localization features, and many other features that make it one of the best affiliate link cloaking WordPress plugins available.
If you want to get the most out of your money, the EasyAzon plugin will not disappoint.
Multi-site usage rights are available for $47.


If you're looking to reduce your content maintenance workload but don't want to hire an agency to manage your affiliate links and content, Auto Affiliate Links is right for you.
It will automatically add affiliate links to your content – you don't even need to set keywords.
The plugin works with a host of affiliate networks, including Amazon, Clickbank, CJ, eBay, and ShareASale.
What I like about the plugin is that while link addition is automated, you do get control over the links on your website. You can set links and keywords manually from the "General Settings" tab of the plugin.
You can limit the frequency of affiliate links on individual posts, and cloaking all of your links is as simple as checking the right box.
Automating affiliate link management is made easy with this plugin. It is perfect if you're looking to spend more time creating content than maintaining it.
Free version available; Pro version starts at $29/month.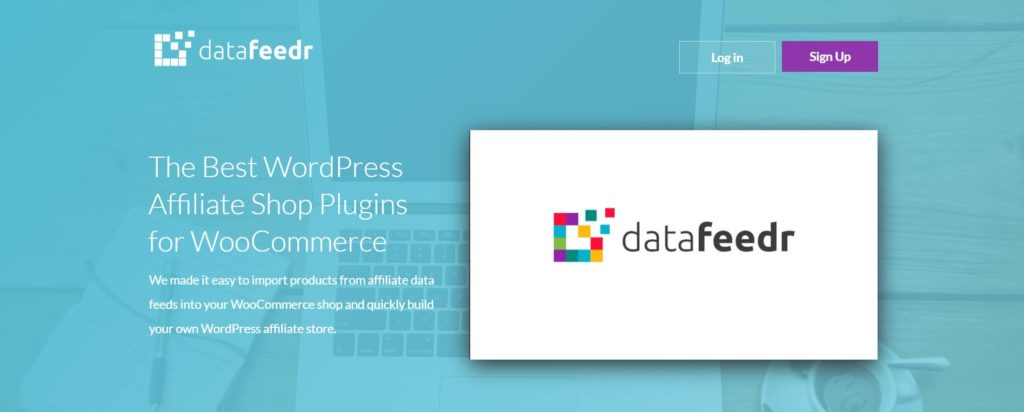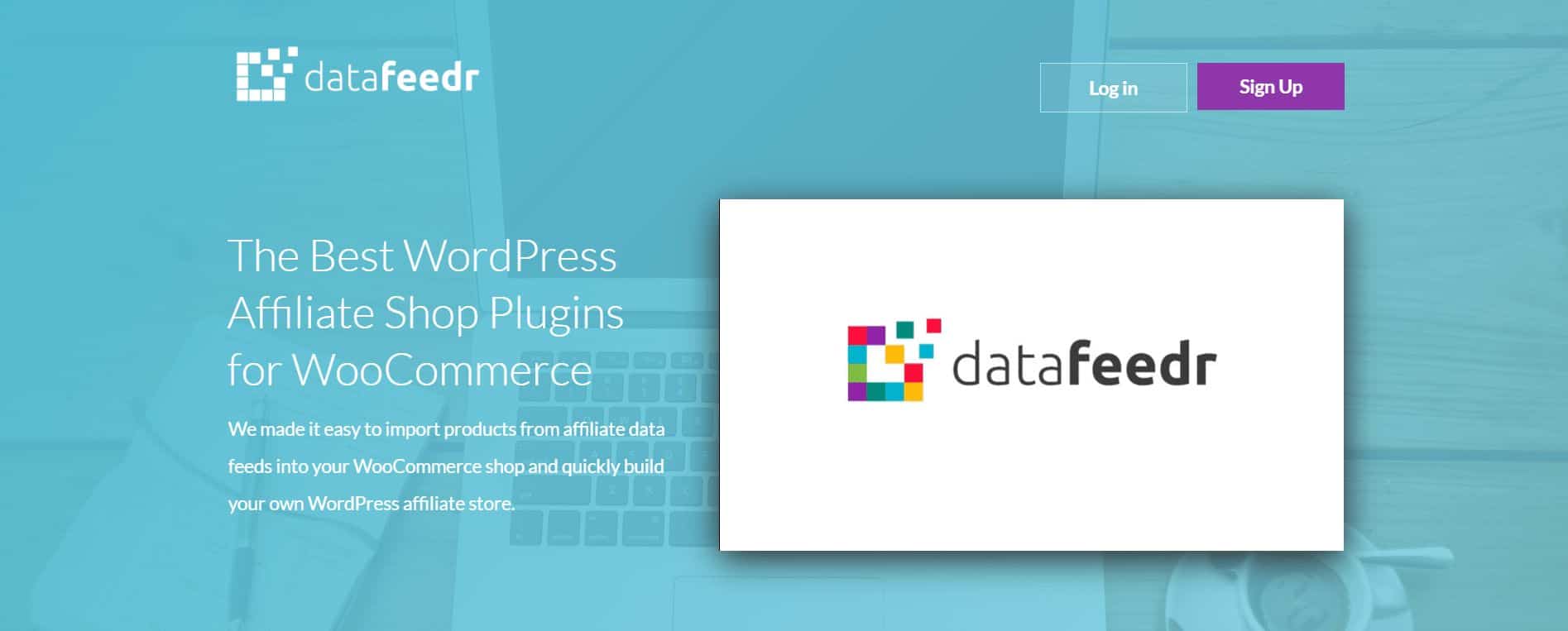 The WooCommerce Cloak Affiliate Links plugin is developed and maintained by Datafeedr.com. The company is committed to providing WordPress users with the best affiliate shop plugins for their WooCommerce-based shop websites.
Needless to say, this plugin works best with WooCommerce-based affiliate shop sites, but it can come in handy even if you run a blog.
Masking your external links is super easy with the plugin's simple interface.
You can configure the plugin to set 301, 302, or 307 status codes to your redirect links. The plugin also enables you to add a "Disallow" to your robots.txt file, which prevents bots from following your affiliate links.
But what I like best about the plugin is that it allows you to set custom structures – categories, if you will – that help you generate cloaked links that complement the content on your website.
If you run an affiliate WooCommerce shop, this uncomplicated plugin will make cloaking links fast and convenient.
Free to download and install on WordPress.org.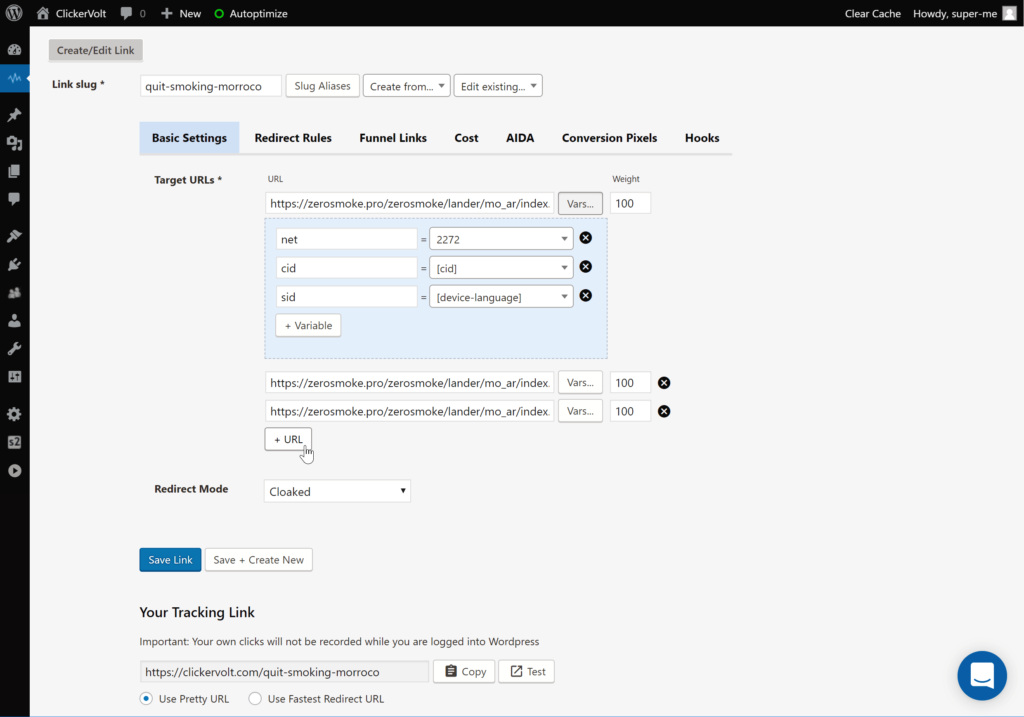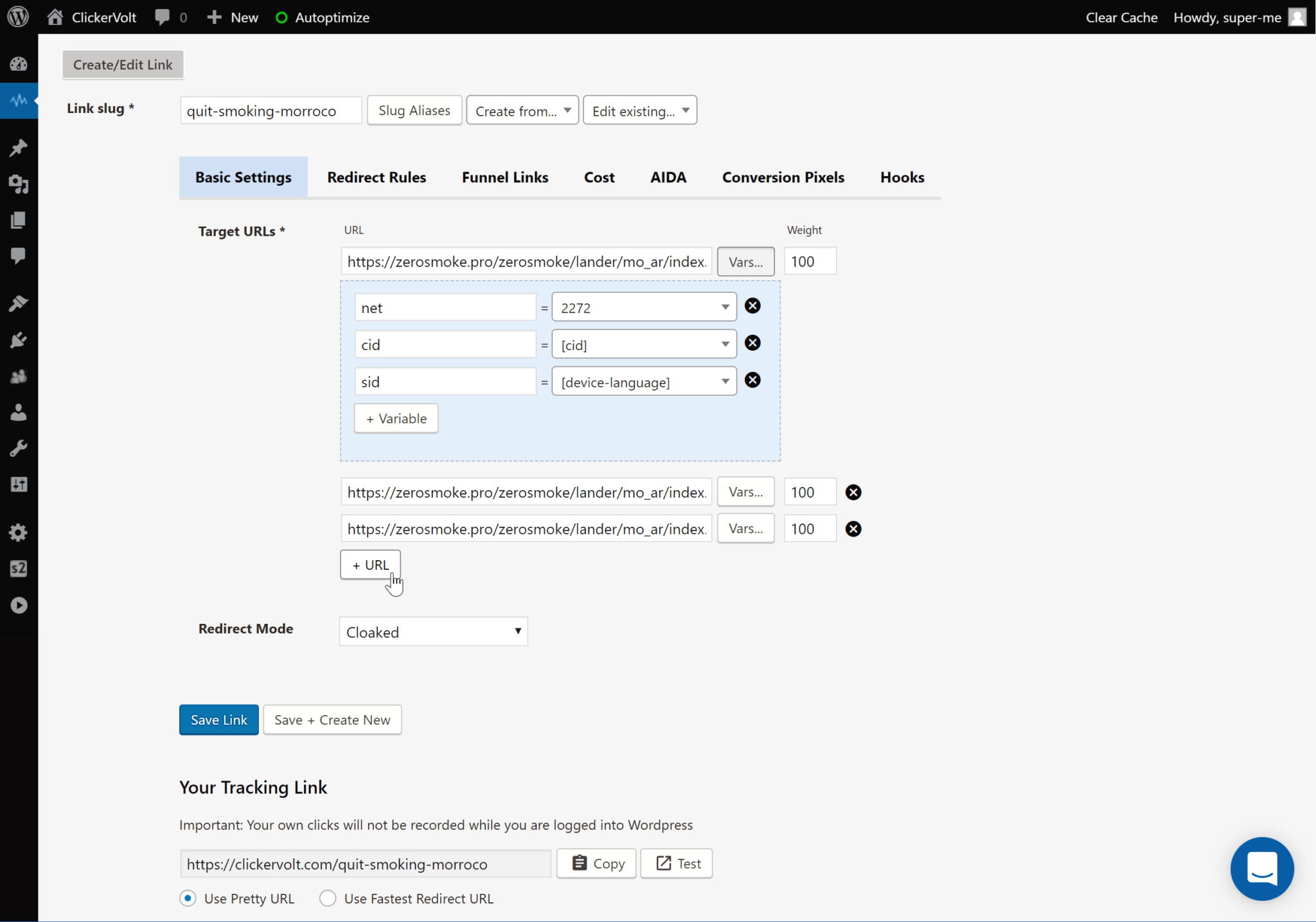 The ClickerVolt plugin is unique – it allows you to track both affiliate links and ad links. This makes it perfect for affiliate marketers who want just one plugin that does all the tracking.
The plugin gives you the details about individual visitors, and you can find out where the click came from, the device type, and also the language of the visitor.
Cloaking links is easy, and you can also split-test URLs, which comes in handy if you're running paid ad campaigns to boost conversion.
It is free, and since it works with dozens of ad and affiliate networks, you cannot go wrong with ClickerVolt.
If you need a free tool that cloaks and tracks both ad and affiliate links without much hassle, ClickerVolt is right for you.
All features are free, but you must pay if you want support.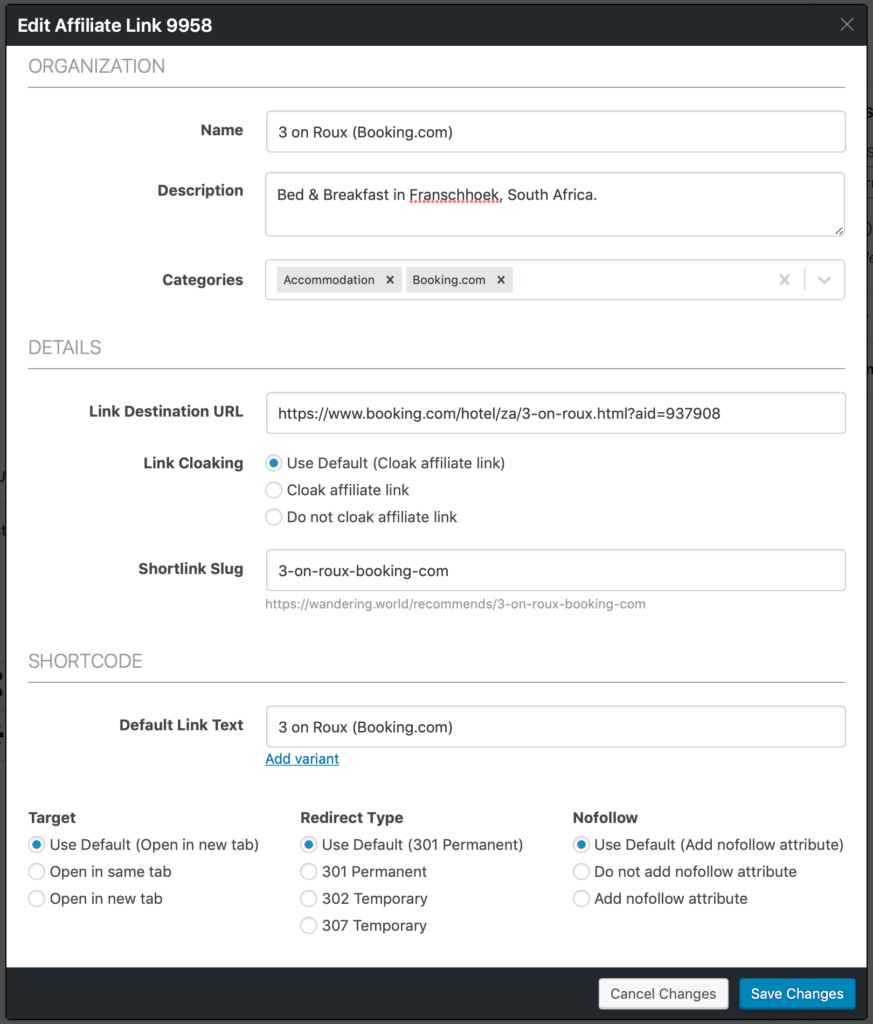 Easy Affiliate Links is super feature-rich for a freemium WordPress plugin. It enables you to manage both cloaked and non-cloaked links on your website, and the links are tracked for you automatically.
You can customize the short link slug, set the target, and also configure redirect type with ease. The plugin also allows you to set no-follow rules in just one click.
But what I like most about the plugin is that you can add UGC and sponsored attributes to your links – the plugin is surprisingly up-to-date for a freemium plugin.
Importing and exporting links is easy, and you can assign categories to links quickly.
Monthly and lifetime click statistics are displayed right next to every link in the plugin's settings, but if you want to unlock charts statistics for better insights, you will need to purchase the premium version.
The premium version also unlocks the automatic broken links checker, which comes in very handy in the long run.
If you're short on cash but want professional features, Easy Affiliate Links won't let you down. It is one of the best affiliate link cloaking WordPress plugins out there.
Most features available in the free version; $29 premium version unlocks additional features.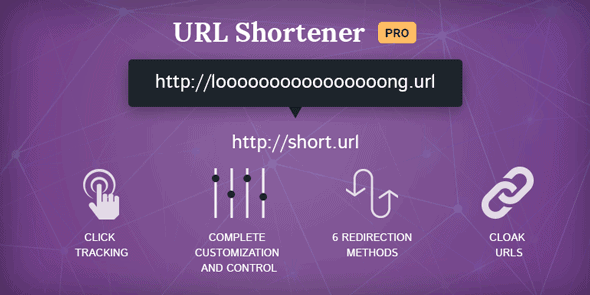 Long loading times are a hurdle that every webmaster deals with. There is a direct link between loading times and engagement.
MyThemeShop's URL Shortener Pro claims that it generates fast-loading links that help you improve conversion rates.
What I like most about the plugin is that it enables you to customize links fully. You can create links that both reflect your brand well and are also easy to remember.
It also includes bulk link replacement features and advanced reporting features that make tracking and gaining insight very convenient.
The six different redirect methods, coupled with the several link attribute settings, make it one of the best affiliate link cloaking WordPress plugins available.
URL Shortener Pro lives up to its reputation – it is easy to use and loaded with features that make link cloaking easy, fast, and convenient.
Free version with basic features available; Pro version available for $29/year.
Five Things To Remember While Cloaking Your Affiliate Links
#1 You Can Customize Your Links To Complement Your Content
Most WordPress plugins enable you to create fully custom slugs for your links. So, if you're selling mattresses, you can create links along the lines of www.example.com/recommends/best-mattress.
#2 Tracking Your Links Correctly Can Supply Actionable Insights
Learning which location and which device is most commonly used to make purchases via your website will enable you to tailor content and optimize your website and increase income.
#3 Leaving Even A Single Link Uncloaked Exposes You To Hackers
Commission-hijacking malware needs to access your affiliate ID. Leaving a link uncloaked increases the risk of commission-hijacking.
#4 Cloaking Links Enables You To Beat Ad Blockers
Ad blockers detect and remove image affiliate links. But if you cloak your link, the image affiliate link will remain undetected and visible.
#5 Using The Do-Follow Tag May Reduce Your SERP Ranking
Try not to tag your affiliate links as "do-follow." It affects your SEO and reduces your ranking.